2000 Lansing High graduate set to walk down hill at
KU

in first class of Wounded Warriors program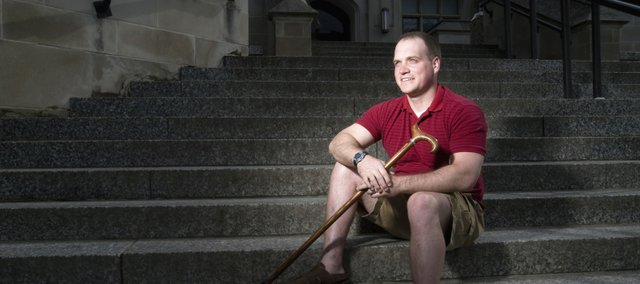 When his Humvee rolled over an improvised explosive device in Baqubah, Iraq, Capt. Gates Brown wasn't sure at first how badly he was injured. When he was recovering, he wasn't sure what his future would hold. When he enrolled at the Kanssa University, he was sure of one thing: he had a future.
Brown, one of the members of the first class of graduates of the Wounded Warriors program. The program, a partnership between KU and the U.S. Army, gives wounded soldiers the opportunity to continue their education and military careers. He'll soon begin his career as an instructor at the Command and General Staff College at Fort Leavenworth, known as the intellectual center of the Army.
Originally from Lansing, Brown will earn his master's in military history from KU on May 16 and will teach the same subject at Fort Leavenworth. Brown said he is thrilled he will be able to continue his Army career but never thought he would take this path.
"I had to change my goals," Brown said of his experience following his injury. "I knew I wasn't going to be able to pursue combat arms anymore. That's the great thing about this program. It gives me a chance to transition from the Army to civilian life."
A 2000 graduate of Lansing High School, Brown joined the Army after graduating from Pittsburg State University in 2004. Growing up near Fort Leavenworth with his mother and stepfather, Debra and Ralph Sorrell, he was aware of the Army from an early age.
"We were always on post doing one thing or another. His experience is what led me to consider the Army," Brown said of his stepfather, now retired from the Army.
In August 2006, Brown was deployed to Iraq, serving as a combat arms officer. In January 2007, he was riding in a Humvee when it drove over a 120-millimeter mortar shell, buried under the road. The vehicle absorbed the brunt of the blast, but he knew he had been hit.
"At first, it felt like we fell off a cliff instead of going up in the air," Brown said. "I knew my feet hurt, and I thought, 'what am I going to see when I take this map board off of my lap?' "
Brown's right leg was severely injured but, fortunately, he was able to keep the limb. He spent several months recovering in Iraq, Germany and Womack Army Hospital in Fort Bragg, N.C. He had five surgeries to address bone damage and traumatic arthritis in his heel, ankle and toes. He was able to walk again but was unable to return to running. Brown's wife, Marty, a cross-country runner whom he met at Pittsburg State, got him involved in the sport, and he completed the Oklahoma City Marathon.
While recovering, Brown weighed his career options. He considered going back to school to study mathematics. His supervisor at Munson Army Health Center at Fort Leavenworth told him about the Wounded Warriors program.
"My name got thrown in the hat, and luckily I got selected," he said.
Always a fan of military history, Brown had never considered making a career of it before his injury. A visit to the Eisenhower Presidential Library in Abilene helped inspire his academic career. His master's seminar papers analyze the Eisenhower administration and the role that nuclear weapons played in post-World War II U.S. and European foreign policy and the implications of those policy decisions.
At Fort Leavenworth, he'll spend his first year observing teachers and curriculum. The second year, he will team-teach and the third year, he will be a full time instructor on his own.
Adrian Lewis, professor of history at KU and director of the Office of Professional Military Graduate Education, thinks Brown has a future in the academic side of the Army.
"He has a sharp mind and a strong desire to learn," Lewis said of Brown. "He is a student in the truest sense of the word. I expect him to make significant contribution to the field of military history."
Brown said while his plans changed, he's thrilled with the opportunity ahead of him. He will continue to work toward a doctorate while teaching at Fort Leavenworth. He said he is proud to be one of the first graduates of the Wounded Warriors program and to prove how successful its alumni can be.
"I wasn't ready to get out yet," he said. "It's nice to still be able to put on the uniform and still be part of the Army."