Chieftains suffer 17-8 loss to Ward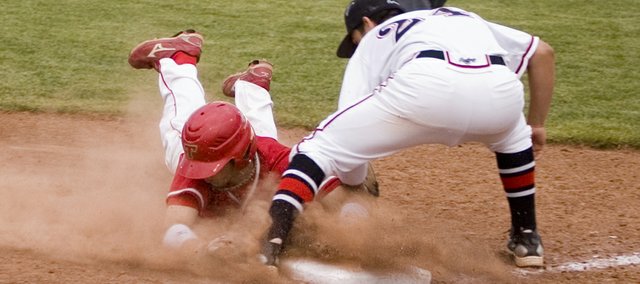 The Tonganoxie High baseball team got off to a nice start Thursday evening but Bishop Ward's top three hitters pounded four homers and drove in 12 runs in a 17-8 Cyclones win at Leavenworth County Fairgrounds.
Ward's Andrew Orel hit two three-run blasts, the second of which gave the Cyclones an 8-6 lead and put them ahead for good in the top of the fourth, off of Chieftains starting pitcher Brandon Yoder.
Bishop Ward scored at least one run in every inning and early on THS (4-12) looked like it could keep pace, scoring three times in each of the first two frames.
Already down a run to the Cyclones (10-5) entering the bottom of the first, Tonganoxie quickly turned a deficit into a lead.
Senior center fielder Dylan Caywood doubled to right field to lead off and Jeremy Wagner followed him with a perfectly placed bunt single that refused to roll foul as it crept down the first-base line.
With one out, Yoder ended up with an odd infield hit after popping a pitch back toward the BWHS pitcher, who stumbled off the hill and fell while trying to position himself for a catch.
That stroke of good fortune loaded the bases for junior Ethan Lorance, who drove in all three of his teammates with a double before he was thrown out at third base trying to earn a triple.
The first of Orel's two four-baggers in the top of the second gave Ward a 4-3 lead when Tonganoxie came up to bat in the bottom of the second.
The Chieftains were able to regain the lead following a leadoff walk by Dalton Harrington and a single to center field by Tyler Freeman.
Both runners ended up in scoring position thanks to a passed ball and Corey Klinkenberg got Harrington home with a sacrifice bunt that tied the game at 4-4.
Caywood then gave THS its second lead of the game with an RBI-triple over the Ward center fielder's head.
Ben Williams extended the advantage to 6-4 with an RBI-single to center.
The Tonganoxie offense curtailed in the third and fourth innings and by the time the home team came up in the bottom of the fifth, the Cyclones were up 12-6.
With one out, Lorance was the first runner to get on base in the fifth for the Chieftains. His base on balls was followed by another one by Dylan Puhr. Then Harrington was hit by a pitch, loading the bases.
Freeman also drew a walk, which scored Lorance.
Klinkenberg then drove home Puhr, making the score 12-8, with a grounder that ended in a fielder's choice.
The Cyclones went on to score five more runs in their final two plate appearances. The Chieftains were unable to produce a hit, though, in either the sixth or seventh innings.
Yoder threw five and two-thirds innings for THS and struck out six Ward batters. The senior right-hander only allowed six hits, but three of those were home runs.
Williams came in for one and two-thirds innings of relief work and struck out two batters while allowing six hits.
Puhr faced the final two BWHS hitters of the game, retiring them both.
The two Kaw Valley League schools square off again on Wednesday at 5 p.m. at Ward, in Kansas City, Kan.