THS

golfers finish 2nd at Lake Perry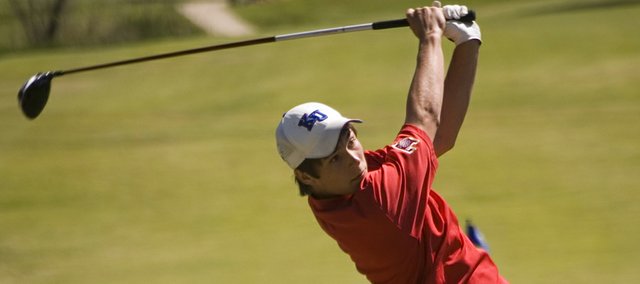 Photo Gallery
THS golfers set new school record
The Tonganoxie High golf team shot a new program-low 312 on Thursday at the Lake Perry Country Club.
Ozawkie — A new program record-low score posted by Tonganoxie High's golf team Thursday at the Lake Perry Country Club was only good enough for second place.
The Chieftains shot 312 at Perry-Lecompton's annual tournament but that number was 15 strokes behind team champ Jeff West.
With sunshine, minimal wind and temperatures in the 70s, coach Jared Jackson said conditions were ideal for low scores.
"Perry is an extremely short course and our kids did a good job of being aggressive when they could without taking too many risks that would led to high scores," Jackson said. "I am proud of them for beating the school record by six strokes."
Two top-ten finishes from THS golfers helped set up the record day. Sophomore Colby Yates shot 71 to finish second at Lake Perry and senior Mitch DeHoff's score of 76 placed him seventh.
Senior Justin Jacobs, who posted an 81, finished 14th overall. Eric Laboyteaux finished with 84 strokes, Tanner Hale shot 87 and Kody Campbell's score was 90.
Thursday marked the end of the regular season for the golfers. They will play in the Kaw Valley League Tournament at Sunflower Hills Golf Course, in Bonner Springs, on Monday. It could be a big day for the program since the Chieftains lost a tiebreaker for first place to Santa Fe Trail at the KVL tourney in 2009 and Sunflower Hills was the site of the program's first team title earlier this season, on March 27.
"Our kids have an eye on first place after losing in a tiebreaker for the league title last year," Jackson said. "It will be the most competitive league field I have seen in my three years."
The coach said SFT, as well as Piper, Mill Valley and Basehor-Linwood will be in the hunt for the KVL crown with Tonganoxie.
Team scores: 1. Jeff West, 297; 2. Tonganoxie, 312; 3. Mill Valley, 318.
THS individuals: 2. Colby Yates, 71; 7. Mitch DeHoff, 76; 14. Justin Jacobs, 81; Eric Laboyteaux, 84; Tanner Hale, 87; Kody Campbell, 90.