Holloway signs with Southwestern College
THS

senior looking forward to college football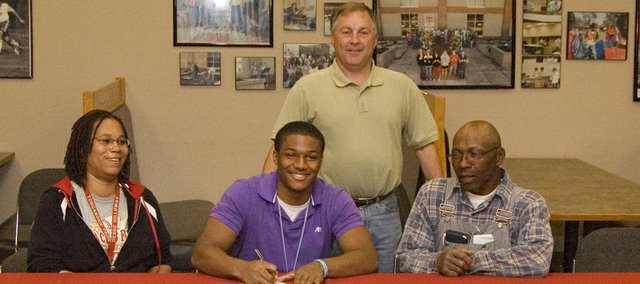 Austen Holloway hasn't yet graduated from high school but he already is preparing for his freshman year of college football.
The Tonganoxie High senior, who will graduate on Saturday, will be plenty ready for his first season as a Southwestern College Moundbuilder when he arrives at the Winfield campus in August.
Official offseason preparation already is under way after Holloway received a diet plan and workout guide in the mail from the SC coaching staff.
That might mean no more hamburgers or other fast food but the 5-foot-7 running back knows it will be worth it if he enters his first college season in top physical shape — and he knows his mother, Deborah, and father, Teri, will stay on top of him to make sure that he does.
Holloway's mom and grandfather, Kent Quarles, were by his side when he officially signed with Southwestern at an April 28 ceremony. It was then that he realized a long-ago established goal of playing college football is close to coming true.
"It's been a dream for me since I was a little kid," Holloway said. "I didn't always think that was a goal I could pursue. I didn't know if I could do it."
He certainly didn't know as a youngster that he'd don a helmet and pads for SC. Holloway hadn't even heard of the NAIA school until a cousin enrolled there a few years back.
But it wasn't simply the allure of the gridiron that led to him choosing Southwestern.
"For me the decision came down to school size, class environment," Holloway said. "It wasn't all just about football."
Among contributing factors in his decision were the teacher to student ratio at the school, the opportunity to get involved with the Student African American Brotherhood and the family-oriented approach of SC football coach Ken Crandall, whom Holloway called "a really cool dude."
Although Holloway enters the college ranks as a running back, he realizes that could change if the coaches want him on the field at another position. He is open-minded about how his collegiate career will play out and if that means watching on the sideline and waiting his turn, that's OK.
"I'm not so much worried about getting on the field as I am … learning the playbook," Holloway said. "When I first get there, I don't expect to get on the field right away."
That transition period, he said, could be ideal because he knows he needs to take care of his classroom responsibilities and just learn about what it takes to be a successful college student.