Tonganoxie golfers 2nd at shortened
KVL

tourney
9-hole format, wet conditions impact league final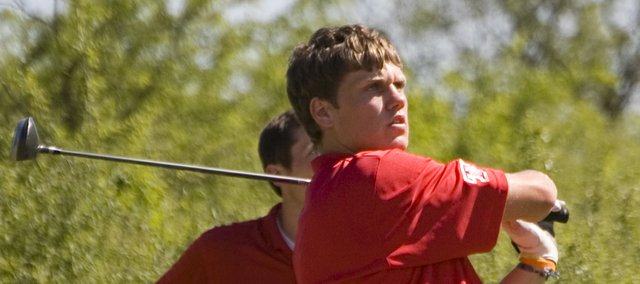 Wet and wild ruled the afternoon Monday at the Kaw Valley League golf tournament.
With rainfall, wind gusts and an unseasonable chill in the air, conditions were far from pretty at Sunflower Hills Golf Course, in Bonner Springs, which led to some interesting scores.
A total of 40, for instance, from Tonganoxie High senior Justin Jacobs was only good enough for third place — because KVL coaches determined the golfers would only play nine holes due to the inclement conditions.
The shortened afternoon, though necessary, might have cost the Chieftains, who finished one stroke behind Piper for the league title. THS golf coach Jared Jackson said the nine-hole format negatively impacted the team's best golfer, defending KVL champion Colby Yates, who didn't place.
"If you would break down his normal scores during the year, there's always a significant difference between his first nine and his back nine," Jackson said, adding that was simply the way the sophomore usually functioned on the course.
Jackson said it often takes Yates a while to find his groove.
"Playing nine holes, he was never able to get into a comfort zone," the coach said.
Yates completely agreed.
"I usually start off OK — not real great — then as the day goes on, I'll get better and play good," he said after shooting 45 on nine holes.
No one had ideal conditions, though, making Jacobs' third-place finish and fellow senior Mitch DeHoff's eighth-place score of 43 all the more impressive.
"It was windy and very rainy and nobody wanted to be there," Jacobs said.
The wet clubs made things difficult but Jacobs might have found just the trick to fix it. He said one of Lansing's golfers let him use a latex glove and it provided a better grip.
DeHoff didn't have any on-the-fly remedies to credit for his score. He said he simply adjusted after a rough start that put him five over par through three holes.
"There was definitely no getting comfortable on a day like today but it was just figuring out where my clubs were going because it was so cold and rainy," he said.
His yardages and chipping were off at first, DeHoff said, but then he got used to it and started playing fine. On the last six holes he was just two over par.
On a strange afternoon, when no one knew for sure how the final scoreboard would look, Yates just couldn't find that relative comfort that Tonganoxie's seniors were able to embrace. The sophomore said nobody in his group could feel their hands after the third hole.
"I didn't hit the ball that bad, I just couldn't really drive," Yates said, noting that he often was forced to play out of the rough and missed some makeable putts.
Since Tonganoxie had won a team title at Sunflower Hills earlier this year and finished second due to a tiebreaker at the KVL tournament last season, the wet, cold afternoon — and the second-place finish — Jackson said, was a downer.
"It's hard not to be disappointed," he said. "I'm proud of 'em, but you're still disappointed. You want to win."
The coach said there was just one part of the leader board that didn't look right when the shortened tournament concluded.
"Looking at it, I think Justin and Mitch are both top-10 golfers in the league and you're not gonna convince me that Colby's not the best golfer in the league," Jackson said.
Hiawatha regional
With the first portion of the postseason completed, next up for the THS golfers is a Class 4A regional at Hiawatha Country Club at 9 a.m. on Monday.
Jacobs said the flip-flopped outcomes for Tonganoxie at the KVL tourney — Yates posted the lowest score at each of the team's seven regular-season tournaments this season — could bode well for the team because the seniors stepped up and carried the load.
"I think it's good going into regionals because I know that Colby will perform and it's good to see that me and Mitch were able to do it under pressure," Jacobs said.
DeHoff, too, predicted Yates, who qualified for state as a freshman last season, will be back to normal at the regional.
"I have no worries for Colby bouncing back next week," DeHoff said.
"I can tell he was disappointed with the way he played today and he's definitely not gonna let Justin beat him twice," the senior said with a chuckle.
KVL tournament
Team scores: 1. Piper, 172; 2. Tonganoxie, 173; 3. Mill Valley, 173; 4. Santa Fe Trail, 174; 5. Bishop Ward, 180; 6. Basehor-Linwood, 184; 7. Bonner Springs, 187; 8. Lansing, 198; 9. Turner, 209; 10. Perry-Lecompton, 220.
Top 10: 1. Matt Rayburn, MVHS, 37; 2. Seth Hatfield, PHS, 39; 3. Justin Jacobs, THS, 40; 4. Declan Fogarty, BWHS, 40; 5. Cale Armstrong, MVHS, 41; 6. Nick Pfrimmer, LHS, 43; 7. Logan Opat, BSHS, 43; 8. Mitch DeHoff, THS, 43; 9. Phoenix Anshutz, SFT, 43; 10. Peter Yadrich, PHS, 43.
THS individuals: 3. Justin Jacobs, 40; 8. Mitch DeHoff, 43; Colby Yates, 45; Tanner Hale, 45; Kody Campbell, 49; Eric Laboyteaux, 49.