Fielding a team
Chieftains scoring a lot of points off the track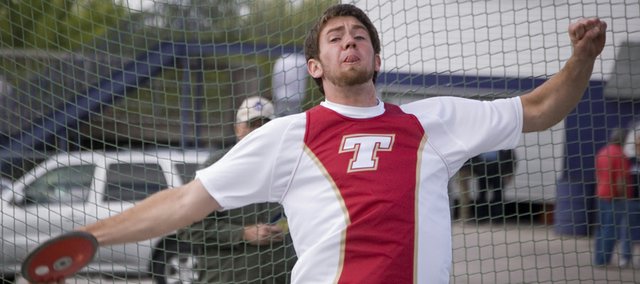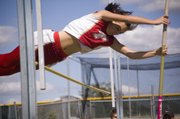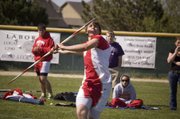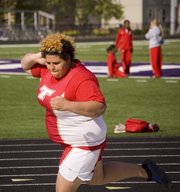 Kansas City, Kan. — When it comes to track, runners might get a lot of the pub, but — as Tonganoxie High's coaches will tell you — field events are just as important to putting together a complete team.
Nothing against those Chieftains racing on the track, but throwers, jumpers and pole vaulters have been just as crucial an ingredient to the success of the THS boys and girls track teams this season.
"Throws and jumps have been our bread and butter all year," girls coach Chris Weller said.
That was once again the case Friday at the Piper Invitational, when Tonganoxie's girls finished second and got 60 of their 104 points from field events.
The majority of those came from throwers as Domino Grizzle, Madi Yates, Jo Kissinger and Makayla Sample put together 34 points between them.
"Domino Grizzle has been scoring basically 20 points for us at every meet," Weller said of the junior, who did just that by winning the shot put and discus on Friday.
Freshman Jenny Whitledge has been a consistent winner in the high jump, too, and the Chieftains have been earning points in bunches from their pole vaulters — Dannie Oelschlaeger, Abby Eisman and Jennifer Stinson — each week.
"Dannie Oelschlaeger's been really consistent and the three girls, between them, are getting 15, 16, 17 points a meet," Weller noted after they scored 16 at Piper (Oelschlaeger placed second, Eisman was third and Stinson was fifth).
Even though the field events come first at track meets, causing some separation between athletes in those events from runners who compete later, Whitledge said Tonganoxie succeeds with a close group of competitors.
"I think since we're such a team and can mesh well together, we don't have any problems with the girls," the freshman high jumper said. "For some reason there's just no drama. Everything's great."
Normally, Whitledge also runs for THS in the 200-meter dash and the 400 but she hurt her leg in 200 prelims Friday. She has a unique perspective as a true track and field athlete and she said all the Chieftains feel like they contribute, with or without scoring points.
Grizzle said before the season started she didn't know how successful the girls would be but was pleasantly surprised when they won their first few meets. Three straight team titles to start the year fired up the team.
"Every event we go to, we talk about how we're going to kick butt and stuff," Grizzle said.
The junior said she and other throwers want to score as many points as they can.
"We definitely work hard at it," Grizzle said. "We want to be top, not just winning the meets, but in events we feel like it's our part to contribute."
Track is a 'team sport' at THS
THS junior Dylan Scates, who competes in the long jump and the triple jump for the boys, echoed Grizzle's comment.
"I just like the feeling that we've contributed a lot," he said.
The long jumpers enjoyed a very successful afternoon at Piper. Scates finished first, Adrian Whittington was right behind him at second and Tyler Basso placed fourth.
Dylan Jacobs had another solid afternoon in the high jump, as well, finishing first.
Scates said it was nice to have so many contributing in jumps, which was not the case just two years ago.
"As far as jumping goes," Scates said, "we've got the most talent we've had."
Williams said Whittington, who competed in a varsity high jump for the first time at Piper, has been a pleasant surprise for the team, especially after scoring in all three jump events on Friday.
But, like the girls, Tonganoxie's boys have a wealth of talent in all the field events.
"A lot of people don't look at track as a team sport, but we do," Williams said. "Our field people have done very well this year."
The coach expected much from his pole vaulters — Jake Willis, Ian McClellan and Cody Martin — and they have come through (Willis set a new THS record and won the event Friday with a 13-7 vault). He also thought Stephen Wilson would be a big factor and he has, medaling in the discus at almost every meet.
But Williams has been impressed by those competing in the javelin and shot put, such as Dallas Jacobs, Bryson Hewins, Richie Ridihalgh and Lucas Ahart, because they were expected to be one of the team's weaker links yet have steadily improved and scored some points at most meets.
"To have a well-rounded track team, it is imperative that you score points in almost every event," Williams said. "Most teams do not have a couple of kids who score 30 to 40 points each in a meet every year."
The Tonganoxie High track teams are scheduled to compete starting at 4 p.m. Wednesday at the Kaw Valley League meet, to which Mill Valley will play host, in Shawnee.
Piper Invitational
May 7
Girls
Team scores: 1. Piper, 111; 2. Tonganoxie, 105; 3. Pembroke Hill, 91; 4. St. Thomas Aquinas, 79; 5. Bishop Ward, 55; 6. Basehor-Linwood, 40; 7. Lansing, 37; 8. St. Teresa's Academy, 31.
THS results
400-meter dash — 3. Cristina Rubio, 1:03.59
800 meters — 1. Andie Jeannin, 2:31.41; 5. Lauren Hall, 2:45.35
1,600 meters — 10. Rachel Summers, 6:52.58
3,200 meters — 8. Alexis Faherty, 15:21.8; 9. Rachel Collinge, 16:30.12
100-meter hurdles — 3. Abby Eisman, 18:05; 4. Emma Slater, 18:06; 7. Shelby Maxon, 19:03
300-meter hurdles — 5. Abby Eisman, 53.53; 8. Shelby Maxon
4x100 relay — 5. Emma Slater, Cristina Rubio, Shelby Maxon, Andie Jeannin, 54.84
4x400 relay — 2. Andie Jeannin, Emma Slater, Cristina Rubio, Abby Eisman, 4:23.4
4x800 relay — 4. Sagan Scates, Abby Thomas, Lauren Hall, Andie Jeannin, 11:10.31
High jump — 1. Jenny Whitledge, 5:02
Pole vault — 2. Dannie Oelschlaeger, 8-0; 3. Abby Eisman, 7-0; 5. Jennifer Stinson, 6-6
Shot put — 1. Domino Grizzle, 35-7; 6. Makayla Sample, 28-9.5; 7. Holly Thompson, 27-9.5
Discus — 1. Domino Grizzle, 106-3.25; 5. Jo Kissinger, 81-11.25; 6. Holly Thompson, 80-8
Javelin — 2. Madi Yates, 106-11; 4. Jo Kissinger, 89-11; 12. Makayla Sample, 63-9
Boys
Team scores: 1. Piper, 170.5; 2. Tonganoxie, 145; 3. Basehor-Linwood, 76.5; 4. Lansing, 56; 5. St. Thomas Aquinas, 53; 6. Pembroke Hill, 28; 7. Bishop Ward, 24.
THS results
200-meter dash — 6. Tyler Woolworth, 24.93
400-meter dash — 4. Tyler Woolworth, 56.01
800 meters — 5. Caleb Himpel, 2:17.43
1,600 meters — 2. Matt Briggs, 5:01.63; 5. Marcus Titterington, 5:12.16
300-meter hurdles — 1. Bret Koch, 43.69
4x800 relay — 3. Matt Briggs, Caleb Himpel, Tyler Woolworth, Bret Koch, 9:10.56
High jump — 1. Dylan Jacobs, 6-0; 3. Adrian Whittington, 5-10
Pole vault — 1. Jake Willis, 13-7; 2. Ian McClellan, 11-0; 5. Cody Martin, 10-0
Long jump — 1. Dylan Scates, 19-7.25; 2. Adrian Whittington, 19-5.75; 4. Tyler Basso, 19-0
Triple jump — 1. Dylan Scates, 41-0.25; 2. Tyler Basso, 38-2; 3. Adrian Whittington, 37-11
Shot put — 4. Bryson Hewins, 40-2.5; 5. Dallas Jacobs, 40-1.25
Discus — 2. Stephen Wilson, 125-0; 3. Dallas Jacobs, 121-7
Javelin — 2. Lucas Ahart, 143-7; 5. Dallas Jacobs, 130-3