Tonganoxie High School graduation Saturday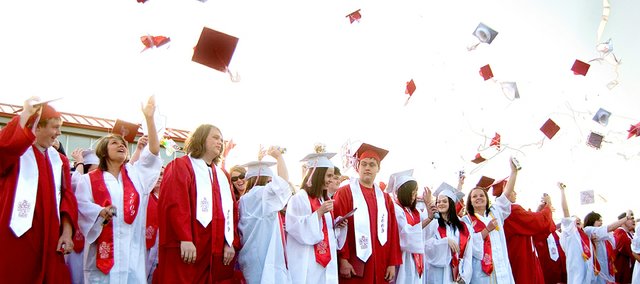 Get ready for the Silly String to fly in just a few days.
Tonganoxie High School graduating seniors — 151 in all — are expected to receive their diplomas this weekend.
Commencement exercises begin at 7 p.m. Saturday at Beatty Field.
Class president Lindsey Fatherley will give the welcome, while the Senior Ensemble and Chieftain Singers will perform one song each.
National Honor Society members and students who maintained 4.0 grade-point averages will be recognized, as will the valedictorian and the salutatorian. Valedictorian is Haley Field; salutatorian is Sarah Swaim.
And then will come the celebration.
Students will receive their diplomas and enter into the world of Tonganoxie High School alumni.
The class then will head to Leavenworth for Project Grad festivities.
Earlier in the day, at 2:30 p.m., a baccalaureate ceremony will take place at the Tonganoxie Performing Arts Center on the Tonganoxie High School campus.
In case of inclement weather, graduation will move to the THS gymnasium.
To find out which seniors will be receiving area scholarships, attend the THS Senior Awards Night, which will be 7 p.m. Thursday at the TPAC.
McLouth High School
Seniors at McLouth High School will graduate Saturday morning.
Commencement exercises are slated for 10 a.m. at Stan Braksick Sports Complex in McLouth, where 45 seniors are expected to graduate.
A handful of class members will speak at the ceremony. This year's valedictorian is Ashlee McClellan and co-salutatorians are Courtney Chilcoat and Katie Walbridge. All three will speak during the ceremony.
Graduation will conclude with the receiving of diplomas.
And Saturday night, community members and parents will play host to a senior party at the school.
In the event of inclement weather, graduation will take place in the MHS Gold Gymnasium.