Tonganoxie High School students flex muscles to help community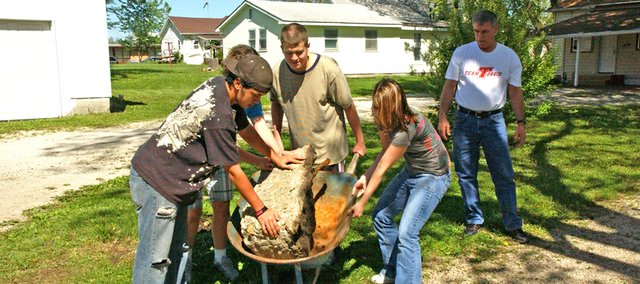 As she helped at the home of Pat Conway last week, Dezi Steinwachs reflected on her community service of a year earlier.
The Tonganoxie High School senior has participated in all three of the school's Community Service Days, and was one of seven students Wednesday, May 5, cleaning gutters, weeding flower beds and digging up and removing a concrete clothesline footing at Conroy's home.
She was enjoying the spring morning outdoors, but Steinwachs said her favorite assignment was inside last May.
"That's when Team Tongie developed. There were a whole bunch of sad things going on with illnesses," she said. "Last year, we cooked food for all the families."
Pam Arevalo, THS Spanish teacher and organizer of the Community Service Day, said the day was started three years ago as a way for high school students to give thanks to the community that provided their education and — through such organizations as Team Tongie — gave them comfort during difficult times and support to boost school spirit.
"One of the things we want the students to come away with is we have a wonderful community who puts a lot of investment in them," she said. "Team Tongie was constantly present and doing nice things for them. At some point in time, the kids have to take time to step back to reflect on that and have an opportunity to say 'thanks.'"
The community also has bought into the service day, Arevalo said.
"Word of mouth has spread, and I think because this is our third year, there are people looking forward to it and our coming out to help," she said.
That was the case with Conroy, who said she had wanted the concrete footing removed for years.
"My husband works so much he doesn't have time to do much of this," she said.
Students this year fanned out across the city to the homes of individuals, city parks and school campuses after a pancake breakfast and the prompting of a motivational speaker.
Senior Steve Smith said he didn't need any motivation for the work he was doing at the master gardeners' garden near VFW Park.
"I like being outdoors and working with nature and plants in general," he said. "It's great to get out here and help our community. It's good for the whole school and the community."
Alice DeMoss said the master gardeners were thankful for the student crew's efforts to plant flowers at the garden.
"We have some awesome students here," she said. "Some of these boys have been year all three years.
"We do all of this as volunteers. It's great what the students are doing for the community."