Chieftains tie
BLHS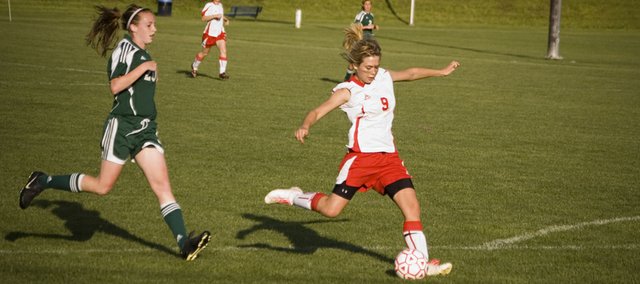 Photo Gallery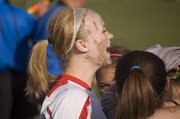 Chieftains tie Bobcats on Senior Night
The Tonganoxie High girls soccer team closed its regular season on Tuesday with a 1-1 tie against Basehor-Linwood on Senior Night at Chieftain Park.
For the second time in as many matches, the Tonganoxie High girls soccer team left the field with a tie Tuesday night.
The Chieftains played 80 minutes and two overtime periods against Basehor-Linwood but neither team could put in more than one goal in a 1-1 stalemate.
THS senior Lauren Williams put her team ahead early, in the 17th minute of the regular-season finale at Chieftain Park.
Williams found herself wide open out in front of the box and drilled the ball into the right corner to give Tonganoxie (4-9-3) a 1-0 advantage.
BLHS didn't score until a few minutes into the second half, when the Chieftains surrendered a goal on a play coach Ken Lott characterized as a "mental pause."
But other than that, the Bobcats couldn't put anything past the Tonganoxie defense or goalkeeper Alex Bartels.
The coach said the players were already disappointed after a May 6 game at Ottawa ended in a tie and the home match against the Bobcats, another draw, was more of the same.
"Being that its was another tie, they were a little frustrated," Lott said.
Ties lend to middle-of-the-road feelings about the performance.
"They know even though its not a win, its not a loss either," Lott said.
The ties could help the team's seeding, though, when regional playoff matchups are announced on Saturday.
Lott said Tonganoxie currently sits at about 14 or 15 out of the 19 northeast Kansas teams in its regional.
The Chieftains could play a team like Bishop Miege or St. James Academy or even a Kaw Valley League foe such as Bonner Springs or Basehor-Linwood.
THS played BSHS twice this season, losing one match in overtime and tying in the Braes in another.
Regardless of who the Chieftains play in the first round, it will likely be a Monday road match.