A decade ago
Memories still fresh of 2000 twister that split Tonganoxie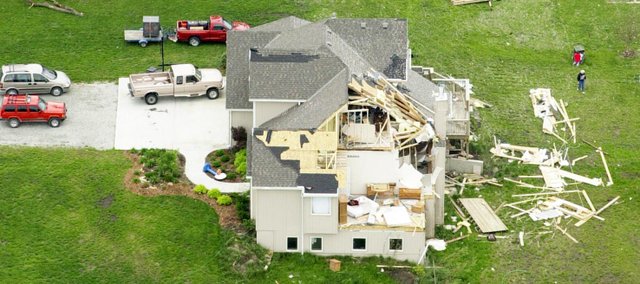 Photo Gallery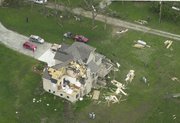 The Tonganoxie tornado of 2000
The night of May 11, 2000, a tornado roared through Tonganoxie. Here is a look at photos made in the aftermath of that twister.
The thought of it kept Christianne Miles awake at night after May 11, 2000.
Christianne and her husband, Virgil, were watching reports on television of severe weather. There was some rough weather near Perry, but the family had moved to Tonganoxie a few months before from Kansas City, Kan.
"Perry is a lot closer than it used to be," Christianne said.
It was about 9:30 p.m. and their children, Tyler and Tayler, who were 11 and 8 at the time, already were asleep. She asked Virgil whether she should wake the kids and take them downstairs.
At 9:55 p.m., the tornado roared down Hubbel Hill and through downtown Tonganoxie.
Miles lives about a mile west of Tonganoxie.
"Nightmares of tornado," Miles said, recounting the aftermath of the tornado. "It would keep me awake at night. If I hadn't gotten upstairs and gotten the kids downstairs…"
The house sustained substantial damage and 75 yards away, the family's barn was leveled, though somehow sheep inside were safe, as the walls of the barn fell in and the roof landed on top of them.
Dogs, horses and cattle also weathered the storm, though the family's chickens did not.
Miles noticed oddities during the cleanup. Earrings she had bought her best friend for Mother's Day were setting on a table next to the wall ripped out by the twister. A box of matches remained on a table while nearby windows were blown out.
Without a home, the family was used to moving. Thanks to Kansas Speedway development, the family moved from its property that had been in her family since the 1800s to rural Tonganoxie. From December 1998 to October 2000, the family had moved five times, from Kansas City, Kan., to her mother's home (which is next door, west of Tonganoxie), into their new house, back to her mother's home following the tornado and then into a rental house before moving back into the reconstructed home in the fall of 2000.
"I don't need to see another moving box," Miles said.
The tornado severly damaged other homesteads west of Tonganoxie, as well as Hubbel Hill Cemetery, the Leavenworth County Fairgrounds and businesses in downtown Tonganoxie. The downtown area was in the process of getting a new look — sidewalks and vintage street lights already were in place and the street itself was still undergoing work — when the tornado hit. Not far from downtown, at Sixth and Church streets, the tornado ransacked the Tonganoxie Assembly of God Church. It, however, was rebuilt, and today is Cornerstone Family Worship.
Miles said many people came to help their family, many of whom they didn't know.
"It was very overwhelming, the number of people who helped," Miles said. "It showed us the true spirit of the Tonganoxie community."
Though no one was injured in the Miles home that night, the tornado ultimately claimed the life of a 4-year-old Lawrence girl the next day during tornado cleanup. Kaela Humburg was killed after a porch at her uncle and aunt's home collapsed on her.
A decade has passed, but Miles hasn't forgotten that night.
"We have a very fine appreciation for Mother Nature," she said. "I think you also find out what is really important. We all have 'stuff'. But you find out that stuff is really not that important."
Eyes on the sky
Leavenworth County Emergency Management Director Chuck Magaha understands tornadoes can strike anywhere in Kansas, and that was reconfirmed as he kept track Monday of as many as seven tornado watches in the state.
He knew that 10 years ago, too, dismissing the widely held belief in the Tonganoxie split, which was supposed to have tornado-producing storms divide and bypass the city.
Magaha said he was talking to then-Tonganoxie Fire Chief Charlie Conrad on the evening of May 11, 2000, when that myth was put to rest.
"It came right down Fourth Street from Hubbel Hill," Magaha said. "Chief Conrad said 'The skies are getting awful black. It looks like something is coming over the hill.'
"I said, 'That's the tornado. You need to take cover.' Then there was a dead silence for what seemed like an eternity."
Conrad took shelter in a drainage ditch, Magaha said. When the fire chief did get back on the phone, it was to tell Magaha "We've been hit by something."
The something was an F-2 tornado, Magaha said. It caused a good deal of damage in Tonganoxie, but its "localized" nature meant there would be no federal disaster aid.
But he said efforts of Tonganoxie residents and neighbors from nearby communities made for a speedy recovery. Most of the damage had been cleaned up when the Kansas National Guard adjunct general made a flyover of Tonganoxie just18 hours after the storm, Magaha said.
The goal after the Tonganoxie storm was to push preparedness and weather hazard radios, Magaha said. There was a great deal of interest in both in the years after the tornado, but it has fallen off in recent years, he said.
"We're all about hazard alert radios and preplanning for your family, your pets, special-needs folks and your neighbors," he said. "Have a plan before something hits and don't rely on outdoor warning sirens. The first thing that went in Tonganoxie was the electricity, and with it, the outdoor warning sirens."
Mobile classrooms
The school year was nearly finished when the tornado did a number on Tonganoxie Elementary School.
TES principal Tammie George, who was assistant principal at the time, went to the school the next morning to assess the damage.
"I was kind of worried about what I would see when I walked in the building," George said. "Predominately, the worst part of damage was the first-grade wing (south wing of school)."
There were several sections of roof that the tornado had lifted. Water damage from rains had to be addressed, also.
George said the damage forced some students to be displaced from their classrooms. The library and music room were used in the interim to accommodate the students for the balance of the school year — about two to three weeks.
"We were lucky it was the end of year and not middle," George said. "It was not a long-term solution. But they handled it so well."
Memorable day
May 11 normally is a day to celebrate for Cheryl Denholm.
The spring date is Denholm's birthday. On her 26th birthday 10 years ago, her family actually had turned in early for bed.
But the sounds of sirens changed any plans for a normal night's sleep.
Denholm's rental home on West Second Street had no basement, so they went to a neighbor's house to wait out the storm.
The tornado ruined all the trees on the property, Denholm said. Also ruined was her Mercury Topaz, which she had paid off the day before.
Though she hadn't experienced a tornado first-hand previously, Denholm felt more prepared for future severe weather after the 2000 tornado.
"Oh, it just makes you more aware and I make sure I can hear the sirens when they do the practices and so forth... with being in child care and so forth, I make sure the kiddos practice that," said Denholm, who owns Kidz Can Be Kidz daycare.
Pulling together
Every building at the Leavenworth County Fairgrounds sustained some sort of damage from the tornado 10 years ago, according to fair board president David Todd.
But what he remembers most is the 40-50 people who volunteered their time to get the fairgrounds back to its former shape.
"The one thing I know I'll never forget was how everybody involved in the fair and 4-H and FFA programs rallied around and got the place cleaned up," Todd said.
The fair board's insurance company gave the OK about 4:30 p.m. the next day to start cleaning up and volunteers got started.
Time was of the essence — the Leavenworth County Fair was just three months away.
The administration building was severely damaged, while new roofs were needed for the hog barn. And, as Todd said, the sheep barn was "completely gone," sans concrete posts and pens.
Though insurance covered some damages, there still was more work to be done. Todd credits banker Bill Petree for securing a grant through the Kemper Foundation and Kenny Wilk, former state representative, for lining up disaster funding through the state.
Builders worked quickly to get the fairgrounds back in shape in time for the fair. Though the Administration Building's west side was not complete, that was the reconstruction not finished in time for the fair. A large tent was put in place in the interim.
And the fair that year?
"By golly, it went off pretty well," Todd said. "I don't remember there being any real issues.
"A couple wind gusts and everybody's going 'oh, now here we go again.' But they weren't that bad. A little rain, but nothing we couldn't deal with."
— Elvyn Jones contributed to this story.