Tuition decision reversed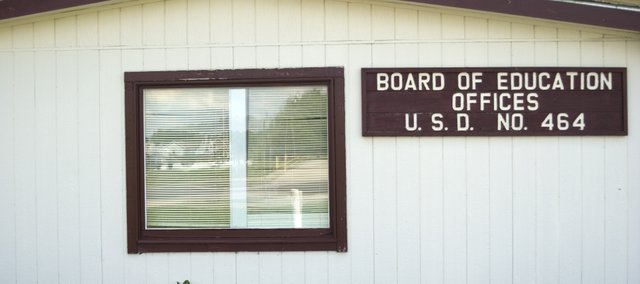 Out-of-district parents won't be paying tuition for their children in 2010-11.
The board approved reversing an April decision to charge out-of-district tuition of $700 per school year for each family that doesn't own property in the district.
Superintendent Kyle Hayden said charging tuition would be a "financial wash" for the district. Hayden learned from Dale Dennis, deputy commissioner for the Kansas Department of Education, that Legislative changes would deduct state aid if and when tuition is charged for out-of-district students.
Butch Fosdick, who has children in the district, including a son who will be a senior next school year, lives outside district boundaries. He voiced his concerns about the fees early in the meeting. His wife, Marcie, serves as a substitute teacher in the district and volunteers with various district activities.
"Is she part of the district?" Fosdick asked. "Sure. That might not be the case in your eyes. We don't know."
But those concerns were squelched after the board's decision later in the meeting.
Building principals will decide whether out-of-district students can remain in the district for the following year based on academic standing, behavior and attendance. The decision is to be made in late May or early June, Hayden said.
The board also changed course on student fees for non-athletic activities. Fees will be $25 per student for an unlimited number of non-athletics KSHSAA activities. At the last meeting, the board approved fees at $15 per activity. Athletics fees will remain $15 per sport.
As for transportation policy, pay-to-ride will be offered at $300 per school year for a student living less than 2.5 miles from the student's school and outside these general boundaries — the future 14th Street to the south, U.S. Highway 24-40 to the north, Ridge Street apartments to the east and Evans Street, near the Leavenworth County Fairgrounds to the west. Maximum cost for pay-to-ride is $450 per household. Students inside those general boundaries are not eligible for pay-to-ride transportation.
Administrator given new title, more pay
The district's state and federal programs coordinator will have additional duties and an increased salary for 2010-11. Tonya Phillips' new title is director of educational programs and student services. She will be paid $72,000 for a 225-day contract. Her current salary is $58,000 for a 220-day contract. The board approved the administrative change, 7-0.
The board also approved 2010-11 salaries for all building administrators, which were the same as 2009-10 salaries: THS principal Jamie Carlisle, $88,872; THS assistant principal Brent Smith, $79,350; THS activities director Brandon Parker, $46,862; TMS principal Jill Dickerson, $79,350; TMS assistant principal Mark Altman, $74,060; TES principal Tammie George, $79,400; and TES assistant principal Ty Poell, $67,712. The current contract for building administrators is 217 days. The new contract will be for 212 days.
hire, resignations approved
Donna Workman was hired as Tonganoxie Middle School counselor by a 7-0 vote.
The board also approved resignations for Benita Adams, copy center para professional, Debbie Allen, transportation para professional, Earleta Morey, volunteer center coordinator, and Stacey Wall, TMS math teacher.
Wall is taking a teaching position at Shawnee Heights High School in Topeka. Adams is retiring with intent to be considered for rehire at lower pay to take advantage of KPERS incentives.
In other business, the board:
• tabled, 7-0, a decision on an interlocal agreement with the city of Tonganoxie for a neighborhood revitalization program. The board wanted to get an opinion from the Kansas Association of School Boards on the agreement before proceeding. The plan would provide a tax rebate to residents who make renovations of more than $5,000 or build new homes valued at more than $120,000 in older areas of the city.
City officials spoke to the board at Monday's meeting, noting it would be asking Tonganoxie Township and Leavenworth County to partner in the effort as well. The county has partnered with other communities in the county, city officials said.
• met in executive session a total of 30 minutes to discuss non-elected personnel.
• approved, 7-0, student handbooks for each district school building for the 2010-2011 school year.
Board member Mildred McMillon said policy is for students to not have skateboards on school property, but she knows of a student who brings a skateboard onto the middle school grounds.
In the Tonganoxie Elementary School handbook, TES principal George pointed out a new rule for 2010-11: no dying of hair in unnatural colors. George said the dye on occasions isn't washed out properly and wears off on hands and clothing and in turn has left stains on books.
• approved, 7-0, amended budget for 2009-10 school year.
• approved, 7-0, low bid of $53,773 from American Roofing for roof repair from American Roofing.
• approved, 7-0, 2010-11 school year schedule.
• approved, 7-0, classified work agreements for 2010-11 school year as presented.
• approved, 7-0, summer work agreement as presented.
• approved, 7-0, continuing with parents as teachers for 2010-11.
• heard about preliminary numbers for state assessment tests from state and federal programs coordinator Tonya Phillips. Students surpassed target areas in several areas, especially at the elementary and high schools.
"They not only exceeded them, they smashed them," Phillips said