Chieftains win 8 events at
KVL

track
Girls finish 2nd; boys place 3rd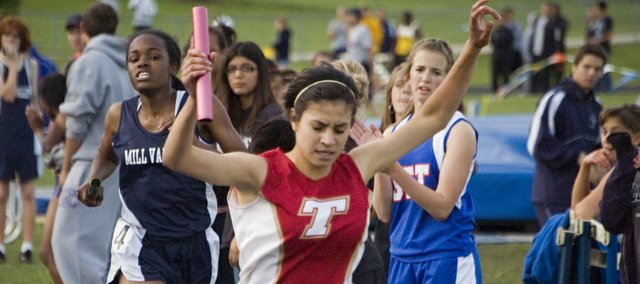 Photo Gallery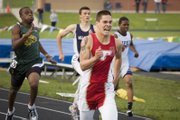 Chieftains at KVL track — Day 2
The Kaw Valley League track meet concluded Friday at Mill Valley and Tonganoxie High athletes won league titles in eight events.
Photo Gallery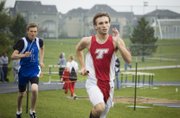 Chieftains at KVL track — Day 1
Some of the Kaw Valley League track and field championship events were contested Wednesday before severe weather forced the rest of the meet to be postponed until Friday at 4 p.m. at Mill Valley High School.
Shawnee — They might not have been at the top of the points standings, but Tonganoxie High's track teams stole the show in the main event at the Kaw Valley League track meet on Friday.
The Chieftains' boys and girls 4x400 relay teams won league championships to end the event on a high note.
First, the THS girls team of Abby Eisman, Jenny Whitledge, Andie Jeannin and Cristina Rubio earned a KVL title in the 1,600-meter relay, then the boys — Bret Koch, Tyler Woolworth, Jeremy Carlisle and DJ Lindsay — matched them, setting a KVL meet record in the process with a time of 3:27.38.
As expected, Class 5A Mill Valley, with the most competitors, took both team titles while playing host to the league meet. But Class 4A Tonganoxie held its own: the girls team was second and the boys were third.
THS girls won league titles in four events, including a meet-record performance by Jeannin in the 800. The senior's time of 2:21.74 beat the previous record of 2:24.7, which was held by her former teammate, Christy Weller.
A freshman, Whitledge also was first in the league in a track event. She won the 400-meter dash — but just barely. Teammate Rubio was only four hundredths of a second behind Whitledge.
Junior Domino Grizzle won a field event for the girls on Wednesday, placing first in the discus.
Tonganoxie's boys also were crowned KVL champs in four events.
Jake Willis won the pole vault early in the afternoon Friday.
Later, Lindsay recovered from a second-place finish in the 400 to win the 200-meter dash.
Carlisle also won an individual title with a victory in the 300-meter hurdles but teammate Koch was just 0.63 seconds behind him.
The KVL meet began on Wednesday, but severe weather postponed most of the events until Friday.
The Tonganoxie track teams will get one week to prepare for their next meet, a Class 4A regional which they will play host to at Beatty Field on Friday.
KVL track
May 12 and 14 at Mill Valley
Girls
Team points: 1. Mill Valley, 220; 2. Tonganoxie, 92; 3. Lansing, 82; 4. Piper, 58; 5. Perry-Lecompton, 42; 6. Santa Fe Trail, 29; 7. Basehor-Linwood, 27; 8. Bishop Ward, 25; 9. Bonner Springs, 23; 10. Turner, 6.
THS results
400-meter dash — 1. Jenny Whitledge, 1:01.65; 2. Cristina Rubio, 1:01.69
800 meters — 1. Andie Jeannin, 2:21.7; 8. Lauren Hall, 2:41.56
100-meter hurdles — 7. Abby Eisman, 18.11; 8. Emma Slater, 18.13; 10. Shelby Maxon, 18.37
300-meter hurdles — 5. Abby Eisman, 50.66; 6. Emma Slater, 51.87
4x100 relay — 7. Emma Slater, Shelby Maxon, Cristina Rubio, Andie Jeannin, 56.04
4x400 relay — 1. Abby Eisman, Jenny Whitledge, Andie Jeannin, Cristina Rubio, 4:10.8
4x800 relay — 3. Lauren Hall, Abby Thomas, Alex Hauk, Andie Jeannin, 10:54.3
High jump — 2. Jenny Whitledge, 5-4
Pole vault — 5. Dannie Oelschlaeger, 7-6; 6. Jennifer Stinson, 7-0
Shot put — 3. Domino Grizzle, 36-7; 11. Makayla Sample, 29-11.75; 14. Holly Thompson, 26-2
Discus — 1. Domino Grizzle, 108-2; 9. Holly Thompson, 82-4; 14. Jo Kissinger, 73-1
Javelin — 2. Madi Yates, 118-4; 8. Jo Kissinger, 93-10; 12. Makayla Sample, 65-5
Boys
Team points: 1. Mill Valley, 162; 2. Lansing, 88; 3. Tonganoxie, 87; 4. Piper, 75; 5. Bonner Springs, 61; 6. Santa Fe Trail, 42; 7. Perry-Lecompton, 35; 8. Basehor-Linwood, 28; 9. Bishop Ward, 17; 10. Turner, 15.
THS results
200-meter dash — 1. DJ Lindsay, 22.28
400-meter dash — 2. DJ Lindsay, 50.3
800 meters — 14. Caleb Himpel, 2:14.67; 16. Matt Titterington, 2:17.51; 24. Austin Searcy, 2:43.72
1,600 meters — 8. Matt Briggs, 4:50.87; 13. Marcus Titterington, 5:04.99; 22. Daniel Monahan, 5:45.51
3,200 meters — 16. Brady Field, 11:40.52; 20. Cooper Gish, 12:22.04
300-meter hurdles — 1. Jeremy Carlisle, 41.67; 2. Bret Koch, 42.3
4x400 relay — 1. Bret Koch, Tyler Woolworth, Jeremy Carlisle, DJ Lindsay, 3:27.38
4x800 relay — 3. Bret Koch, Caleb Himpel, Tyler Woolworth, Jeremy Carlisle, 8:50.7
High jump — 4. Dylan Jacobs, 5-10; 7. Adrian Whittington, 5-6
Pole vault — 1. Jake Willis, 13-0; 4. Ian McClellan, 11-0; 6. Cody Martin, 10-0
Long jump — 6. Dylan Scates, 19-8; 12. Adrian Whittington, 19-2; 15. Tyler Basso, 18-10
Triple jump — 2. Dylan Scates, 41-2; 7. Adrian Whittington, 40-1; 10. Tyler Basso, 37-4
Shot put — 10. Dallas Jacobs, 39-1.5; 11. Bryson Hewins, 38-7; 15. Tyler Stockman, 37-8
Discus — 5. Bryson Hewins, 132-3; 8. Stephen Wilson, 127-8; 11. Dallas Jacobs, 110-5
Javelin — 8. Richie Ridihalgh, 131-10; 10. Lucas Ahart, 124-10; 11. Dallas Jacobs, 124-1