Chieftain golfers headed to state
Yates rebounds with regional title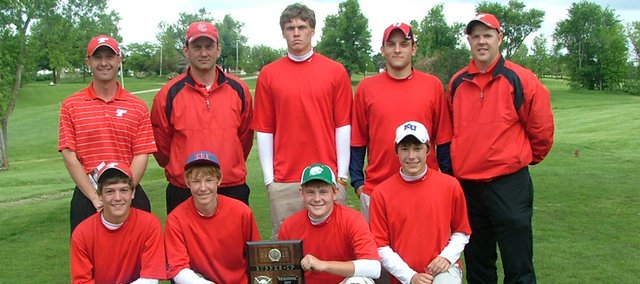 A cool, confident approach was just the ticket for the Tonganoxie High golf team at a regional tournament in Hiawatha Monday, when the Chieftains booked a trip to state with a second-place finish.
THS shot 319 as a team to earn the program's first state tournament qualification and sophomore Colby Yates rebounded from a disappointing Kaw Valley League tournament the week before to capture a Class 4A individual regional title at Hiawatha Country Club.
Tonganoxie coach Jared Jackson said the team felt prepared and that led to an upbeat approach.
"We were just relatively calm. There were a little nerves but for some reason, I had told the team, it just felt like we were gonna play well," the coach said.
Practice rounds at the course proved critical to the Chieftains' success, especially for Yates, who had played the nine-hole course more than anyone on the team. The sophomore's four practice rounds meant he had already played each hole eight times before the tournament began, which gave him a distinct competitive advantage.
"It helped a lot," said Yates, who finished two under par with a 70. "You could tell the kids that I was playing with didn't know where to hit it on different holes."
THS senior Mitch DeHoff was plenty comfortable, too, and placed sixth at the regional with a score of 79, easily making it the marquee day of his prep career.
"Qualifying for state and breaking 80 at the same time, that's really great," DeHoff said.
When Jackson, who spent the day alongside Yates, heard from assistant coaches that DeHoff was playing so well, he knew the Chieftains had a shot to finish in the top two and make program history. He said he was a little worried when senior Justin Jacobs (92) struggled, but the team received a much-needed boost thanks to the play of two sophomores — Tanner Hale, who shot 84, and Kody Campbell, who posted an 86.
"Kody Campbell, he stepped up," the coach said. "And then Tanner, another sophomore, he just held it together all day. He just played like he should."
The play of the sophomores was a perfect example of what DeHoff had seen all season — a team that wouldn't be doomed because of one abnormal score. The four-year member of the program said THS didn't have that capability when he was an underclassman.
"This year I feel if either me, Justin or Colby slack off a little bit, one of the other golfers can pick up our slack," DeHoff said.
Yates had a much better day at the regional than he experienced the week before at the KVL tournament, where he posted a nine-hole score of 45 and didn't place. Jackson said the one-week turnaround was exactly what he expected out of Yates.
"You knew he was gonna follow it up with his best effort. He put in the time this week," Jackson said. "He's too good of a golfer to play like that for two rounds in a row."
However, Yates said the disappointing performance lingered somewhat in his mind Monday.
"Honestly, I wasn't real confident coming in because of how league went and stuff," he said.
But on the first few holes, Yates picked up a couple birdies and started rolling.
When DeHoff, still finishing up his round, found out Yates had been two under through eleven, he "went ecstatic," because he knew the team needed a big day from the sophomore. DeHoff then regained his composure to score par on his final two holes.
Yates qualified for state as a freshman, but this coming Monday he will be taking five teammates with him to compete at the Class 4A tournament at Hesston Golf Park.
His advice to them: "Just have fun," he said. "There's not a lot of kids that get the opportunity to go play at the state tournament."
Class 4A regional at Hiawatha
Team scores: 1. St. James Academy, 308; 2. Tonganoxie, 319; 3. De Soto, 331.
THS scores: 1. Colby Yates, 70; 6. Mitch DeHoff, 79; Tanner Hale, 84; Kody Campbell, 86; Justin Jacobs, 92; Eric Laboyteaux, 101.