Promoter seeks permit for three-day bluegrass festival in southwest Leavenworth County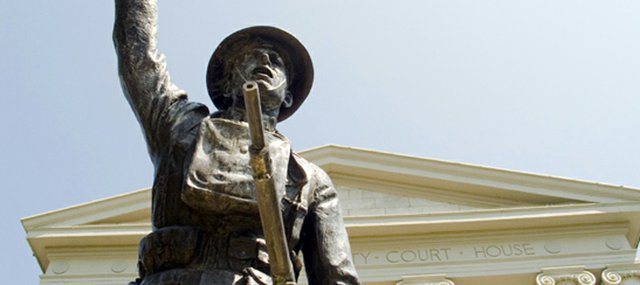 If its promoter can satisfy Leavenworth County officials that security bonds and liability insurance are in place, there will be a three-day bluegrass concert in southwest Leavenworth County this weekend.
Justin Falleaf of rural Linwood said he has promoted a bluegrass festival for three-straight years at the site one-half mile east of 250th Street and Kansas Highway 32. But as he was made aware of the need of permits when he helped Jack Murphy, the owner of the festival site property, remove trailers from the land, it occurred to him he might need a permit for the festival.
That was indeed true, and Falleaf on Monday asked Leavenworth County commissioners for a temporary use permit for the festival Friday, Saturday and Sunday, which he hopes will attract 39 bands and 200 to 300 people a day.
In making his pitch, Falleaf said the festival would be a laid-back affair and most of those attending would be friends or family of the performers.
He only had 1,000 tickets printed and doubted he would sell them all, he said.
"We don't want to be a Wakarusa or a Rockfest," Falleaf said.
A bluegrass performer himself, he wanted to give other in the area and state a venue to showcase their talents, Falleaf said.
Commissioners were open to issuing the permit, but cautious.
"We want these kinds of things in the county," Commissioner J.C. Tollefson said. "But you kind of sound like four guys putting on a festival."
The county planning staff recommended safety fencing and a $1 million event liability policy be conditions of the festival — steps Falleaf had taken in the past. They also recommended music end at midnight Friday and Saturday and 8 p.m. on Sunday and that any lighting be directed toward the stage.
There was a complaint from a neighbor last year. To prevent a reoccurrence, he would walk the perimeter with a decibel meter to ensure the music was under acceptable levels, Falleaf said.
Should there be complaints, he would probably shut the festival down for that day, Sheriff David Zoellner said.
But the sheriff's main concern was security. In the past, Falleaf has employed a Lawrence man who he said had provided security for country music stars, large festivals and bars in Lawrence.
Zoellner and commissioners agreed Falleaf would be required to hire a bonded security agency, who would provide a minimum security bond of $10,000 before the close of business Wednesday. That would protect his office from overtime expenses if deputies had to respond to a situation at the festival.
Should Falleaf obtain the insurance and security bond by the deadline, the commission will consider the permit Thursday.