Thunder ends
THS

soccer season
Chieftains lose 8-0 in regional playoff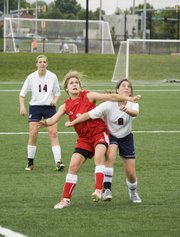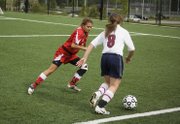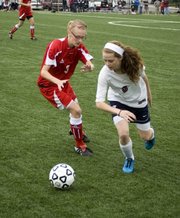 Overland Park — The seeds weren't much different but execution sure was when the Tonganoxie High girls soccer team squared off with St. James Academy Monday in a regional playoff match.
The Chieftains came in as the 13 seed in Northeast Regional 1 and the Thunder was No. 12, but it was all SJA in a 8-0 THS loss at Overland Park Soccer Complex.
St. James (7-10) established its dominance early, scoring two goals in the first two minutes. The Chieftains (4-9-3) settled down after the bad start but SJA was able to score five first-half goals, leaving little question about the outcome.
Junior THS defender Shyanne Gergick said the large early deficit was demoralizing.
"It brought all of us down but after halftime we all talked and we knew they were going to be a tough team, so we had to step up our game," she said.
As Tonganoxie familiarized itself with the St. James passing attack, things got easier. Even though the Thunder added three second-half goals, coach Ken Lott said it was a better effort from his team — just too late.
"I think we played better in the second half than we did the first half just because we started to figure out the game," Lott said.
Chieftains junior Alex Bartels started at goalkeeper and said what made SJA so tough to defend was its fast players, who made even quicker passes.
"We were just stuck reacting, which is not very offensive thinking," Bartels said.
Offense nearly was nonexistent for Tonganoxie in the season-ending loss. St. James dominated possession so much that it wasn't until the 58th minute that THS got a realistic scoring push. Junior Ashley Kotowske brought the ball up the right sideline but couldn't find an angle for a shot.
Finally, about eight minutes later, the Chieftains got off a shot attempt when Lauren Williams was denied on a solid effort.
By the end of the match, SJA had amassed 18 shots on goal to Tonganoxie's one.
Bartels, who saw 12 of the Thunder's shots on goal in the first half before Eva Drennan tended the net in the second half, said St. James was too much to handle.
"We were trying hard, but they were trying hard and had skill to go with it," she said.
Gergick said the Thunder dominated because of its superior ball movement.
"I think what made them so good is that they could spread out and they could pass the ball," Gergick said, noting the Chieftains had a bad habit of doing the opposite.
Lott praised the victors for playing a pretty game.
"They have all the things you want to have in a team — they have speed, they are very technically sound and they have the tactical game down," the coach said.
After seeing such a well-rounded team up close and personal, Lott hoped Tonganoxie's players would take note.
"I would just like for the kids to see how they play the game and try to somewhat emulate that — I know it's not going to come overnight," Lott said.
Bartels said the toughest part of the playoff loss was the knowledge that the team's seniors had to end their prep careers on such an ugly note.
"I wish we could have had a prettier score for our seniors' last game," a frustrated Bartels said.