5 questions: Tops in class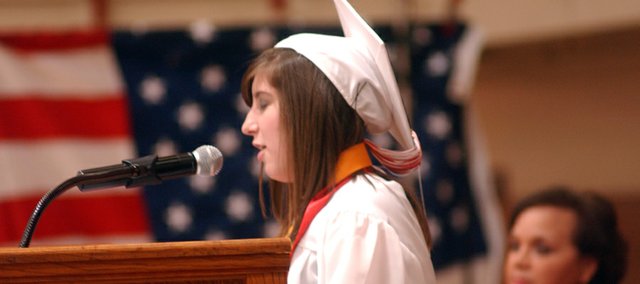 THS valedictorian Haley Field answers questions about high school, college.
Q: Where you'll be attending college and what is your intended major?
A: Manhattan Christian College and Kansas State University. I will be completing the dual-degree program, majoring in Bible at MCC and graphic design at K-State.
Q: What makes the Class of 2010 different?
A: I feel that our class is different because we have had to overcome many hardships, including the loss of two of our classmates. I feel that this has brought our class closer together and made us stronger.
Q: What teachers stood out in your mind as you received your education in Tonganoxie? 
A: Mrs. Arevalo - She made Spanish fun and I can tell that she truly cared about her students. Mr. Lewis - He is one of those teachers you never forget. He made chemistry so much fun and was such a friendly, outgoing teacher. Ms. Evans - She taught me English 3 consecutive years, and I always enjoyed being in her class. Mr. Church and Mr. Harrell - They both helped me immensely when it came to theater and forensics. I have learned so much from them both.
Q: What are you most concerned about in heading off to college and preparing for your career?
A: I am most concerned about fully deciding what I want to major in. I'm pretty sure I want to major in graphic design, but I'm not 100 percent sure. I know that God will help me figure everything out though, so I'm not going to stress about it.
Q: What will you miss most about Tonganoxie?
A: I will miss the tight community here. You can tell that people truly care about each other in this town. In Tonganoxie you feel like you know just about everyone, and I will be moving to Manhattan, where I only know a handful of people.