Indoor ceremony doesn't dampen graduation spirit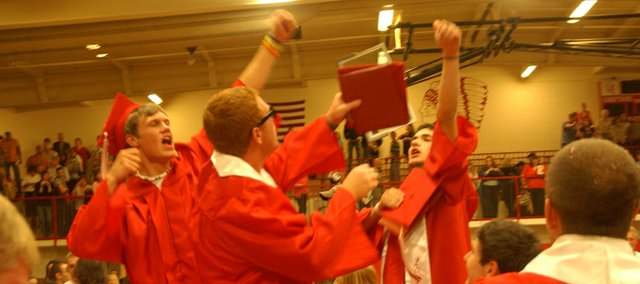 It's been more than a decade since Tonganoxie High School's commencement exercises took place inside.
Graduation had taken place at Beatty Field 10 consecutive times — the last graduation before Saturday that was staged at the THS gymnasium was 1999, according to THS assistant principal Brent Smith.
Smith, who came to THS in the fall of 2001, said it was his understanding that the Class of 1999 was the last to graduate inside because of inclement weather.a
"The streak was going pretty well," Smith said of the string of clear weather for graduations. "It pretty much got shattered the other day, though."
School officials had to punt on having the ceremony at Beatty Field, but Smith said the change of venue didn't appear to be an issue.
"We were able to use the auditorium for overflow," Smith said, noting graduation was simulcast in the auditorium.
He added that school officials received several compliments from people who watched from the auditorium. They said it was a comfortable place to watch the ceremony and that they felt as though they were part of the ceremony.
Smith said graduation had taken place annually at the gymnasium, but the ceremony was moved to the football field because the gymnasium lacked air conditioning. It since has been upgraded, making it more comfortable Saturday.
If graduation has to be moved indoors next year, there will be about 15 fewer graduates by current estimations, according to Smith.
That will change the following year, as coming classes will average between 160 and 170 students. Smith said he doesn't foresee class size dipping much below 150 students after the Class of 2011 graduates.