Relay rivalry: Boys match girls with 4x400 title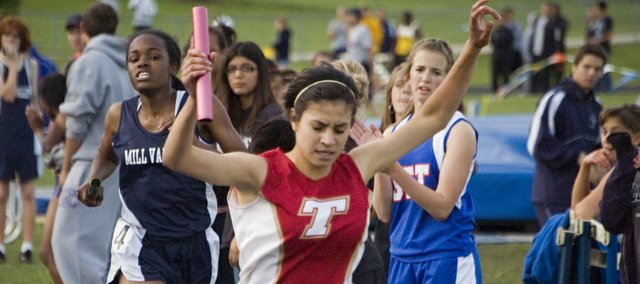 Photo Gallery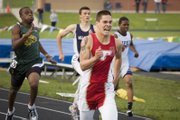 Chieftains at KVL track — Day 2
The Kaw Valley League track meet concluded Friday at Mill Valley and Tonganoxie High athletes won league titles in eight events.
Photo Gallery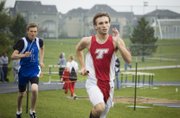 Chieftains at KVL track — Day 1
Some of the Kaw Valley League track and field championship events were contested Wednesday before severe weather forced the rest of the meet to be postponed until Friday at 4 p.m. at Mill Valley High School.
Shawnee — The Tonganoxie High boys' 4x400 relay runners had more than eight other Kaw Valley League teams to contend with on Friday at the league championships. The Chieftains had a friendly rivalry going with the THS girls 4x400 team, too.
So when Abby Eisman, Jenny Whitledge, Andie Jeannin and Cristina Rubio won a KVL title in the event at Mill Valley, it was officially on.
"I think we're always trying to one-up the girls because they're always talking about how much better they are than us," Bret Koch, the lead runner on Tonganoxie's boys 4x400 team, said with a smile.
Koch got the team started and Tyler Woolworth, Jeremy Carlisle and DJ Lindsay finished it off to match the girls with a league championship of their own while setting a KVL meet record (3:27.38) in the process.
The girls' title and some stiff competition from Mill Valley and Lansing, whose relay teams were neck-and-neck with the Chieftains for more than three laps, made for an exciting race. Koch said it was one of the most challenging races of the season for the defending Class 4A state champs.
"Most other meets we've gone past everybody by like 50 meters or something… It was fun," the senior said, still breathing heavily from exertion a few minutes after the meet-ending race concluded.
Lindsay's lap as the anchor made it fun. The senior pulled away from Lansing and Mill Valley to help his team win by 2.62 seconds.
"We put a lot of trust in DJ and he always comes through," Koch said. "I wouldn't want any other anchor besides DJ. He's so competitive that he refuses to lose to anybody."
Not your average meet
Other than Class 5A Mill Valley winning boys and girls team titles (the THS girls were second and the boys were third), it wasn't a typical Kaw Valley League Meet.
Some events were completed on Wednesday, May 12 but many were postponed until Friday due to severe weather.
Nobody might have been affected more by the delay than Tonganoxie junior Jake Willis, who still managed to win a league championship in the pole vault with a jump of 13 feet.
"I was ready on Wednesday," Willis said. "It was perfect on Wednesday."
Friday got off to a bad start for the Chieftains vaulter. As he was getting ready to head to school, his dog ran away. Willis spent two hours trying to find his pet before finally heading to school. In his haste, he forgot his big pole, which he had hoped to use to break his personal record of 13-7 in the event.
Even a KVL title couldn't cheer him up.
"I just didn't pump myself up like I should've for this meet," Willis said.
Willis later ran into some more trouble in the 4x100 relay race. As he extended his baton toward teammate Carlisle, there was some contact between Willis and Piper's second runner and Tonganoxie's baton ended up on the track, disqualifying the team.
But that wasn't the only 4x100 mishap for the Chieftains. Minutes earlier, in the girls race, as Rubio ran the third leg of the relay, she nearly plowed into a hurdle that was accidentally left on the track.
The THS junior swerved into the next lane to avoid injury as her teammate Jeannin looked on, perplexed.
"The hurdle thing was so weird because I was about to get the baton from Cristina but all the sudden she's running around it and I hear her talking to the girl (in the next lane)," Jeannin related.
Because of the hurdle incident, the race had to be run again later in the meet. And because the redo was not too far ahead of the 4x400 relay, Rubio and Jeannin were advised to take it easy in the 4x100 and Tonganoxie finished seventh in the race.
One of the biggest surprises of the meet, though, came in the boys 400-meter dash. Lindsay was the hands-down favorite in the race but finished second to MVHS sophomore Ashton Proctor by three hundredths of a second.
Lindsay was extremely disappointed and blamed himself for entering the race cocky and thinking he could coast to a league title.
"I was pretty devastated because I was being stupid," the senior sprinter said.
To his credit, he learned from it and made sure there wasn't a repeat performance in the 200-meter dash.
"I guess that was good incentive for me to go kill the 200. I was pretty mad," Lindsay said after winning a KVL championship in that race.
4 KVL titles for THS girls
The Chieftain girls finished the meet with four league titles.
Junior Domino Grizzle was the lone field-event winner for the THS girls, placing first in the discus on the first day of the meet with a mark of 108-2.
The closest call for Tonganoxie came in the 400-meter dash as freshman Whitledge beat out teammate Rubio by four hundredths of a second.
"All I know was they were all in front of me the first 200 meters and then I just took off," Rubio said, "but the last 10 meters ... I see a shadow. And Jenny appears out of the corner of my eye."
The junior didn't mind barely losing, as long as it was to a Chieftain.
"I would've loved to be first but this is the second-best thing," Rubio said. "I'm really proud of her. She's gonna be really good."
The girls' other championship came in the 800-meter run, when senior Jeannin set a new KVL record with a time of 2:21.74. She had no idea when she crossed the finish line she had broken the record of former teammate Christy Weller.
"It just makes me feel good because I looked up to Christy so much," Jeannin said of the 2008 THS grad. "She's always been able to beat me but knowing I can stay up there makes me feel good."
Hurdlers push each other
Tonganoxie's boys took first and second in the 300-meter hurdles as Carlisle beat Koch by less than a second.
The junior won a KVL crown in his first year of competing in the event and credited his senior teammate for making him better.
"It definitely didn't come naturally to me to start off the season," Carlisle said. "I looked like I was trying to high jump on every one in practice."
Koch helped the new hurdler along the way and Carlisle's technique improved.
In the league final, Carlisle had a slight lead down the stretch but wasn't sure who he was trying to fend off.
"I'm glad it was Bret because we were planning on going one-two, one of us winning and the other one getting second," Carlisle said, adding he wouldn't have won without Koch's assistance.
Regional host
Tonganoxie will play host to one of four Class 4A regional track meets on Friday.
Along with the Chieftains, athletes from the following schools will vie for state qualification: Atchison, Baldwin, Basehor-Linwood, Bishop Ward, De Soto, Eudora, Hiawatha, Jeff West, Perry-Lecompton, Piper, Pleasant Ridge, St. James Academy, Santa Fe Trail, Sumner Academy and Topeka-Hayden.
Field events begin at 3 p.m. at Beatty Field. Track prelims will start at 5 p.m. and finals are scheduled for 6:30 p.m.
KVL track
May 12 and 14
Girls
Team points: 1. Mill Valley, 220; 2. Tonganoxie, 92; 3. Lansing, 82; 4. Piper, 58; 5. Perry-Lecompton, 42; 6. Santa Fe Trail, 29; 7. Basehor-Linwood, 27; 8. Bishop Ward, 25; 9. Bonner Springs, 23; 10. Turner, 6.
THS results
400-meter dash — 1. Jenny Whitledge, 1:01.65; 2. Cristina Rubio, 1:01.69
800 meters — 1. Andie Jeannin, 2:21.7; 8. Lauren Hall, 2:41.56
100-meter hurdles — 7. Abby Eisman, 18.11; 8. Emma Slater, 18.13; 10. Shelby Maxon, 18.37
300-meter hurdles — 5. Abby Eisman, 50.66; 6. Emma Slater, 51.87
4x100 relay — 7. Emma Slater, Shelby Maxon, Cristina Rubio, Andie Jeannin, 56.04
4x400 relay — 1. Abby Eisman, Jenny Whitledge, Andie Jeannin, Cristina Rubio, 4:10.8
4x800 relay — 3. Lauren Hall, Abby Thomas, Alex Hauk, Andie Jeannin, 10:54.3
High jump — 2. Jenny Whitledge, 5-4
Pole vault — 5. Dannie Oelschlaeger, 7-6; 6. Jennifer Stinson, 7-0
Shot put — 3. Domino Grizzle, 36-7; 11. Makayla Sample, 29-11.75; 14. Holly Thompson, 26-2
Discus — 1. Domino Grizzle, 108-2; 9. Holly Thompson, 82-4; 14. Jo Kissinger, 73-1
Javelin — 2. Madi Yates, 118-4; 8. Jo Kissinger, 93-10; 12. Makayla Sample, 65-5
Boys
Team points: 1. Mill Valley, 162; 2. Lansing, 88; 3. Tonganoxie, 87; 4. Piper, 75; 5. Bonner Springs, 61; 6. Santa Fe Trail, 42; 7. Perry-Lecompton, 35; 8. Basehor-Linwood, 28; 9. Bishop Ward, 17; 10. Turner, 15.
THS results
200-meter dash — 1. DJ Lindsay, 22.28
400-meter dash — 2. DJ Lindsay, 50.3
800 meters — 14. Caleb Himpel, 2:14.67; 16. Matt Titterington, 2:17.51; 24. Austin Searcy, 2:43.72
1,600 meters — 8. Matt Briggs, 4:50.87; 13. Marcus Titterington, 5:04.99; 22. Daniel Monahan, 5:45.51
3,200 meters — 16. Brady Field, 11:40.52; 20. Cooper Gish, 12:22.04
300-meter hurdles — 1. Jeremy Carlisle, 41.67; 2. Bret Koch, 42.3
4x400 relay — 1. Bret Koch, Tyler Woolworth, Jeremy Carlisle, DJ Lindsay, 3:27.38
4x800 relay — 3. Bret Koch, Caleb Himpel, Tyler Woolworth, Jeremy Carlisle, 8:50.7
High jump — 4. Dylan Jacobs, 5-10; 7. Adrian Whittington, 5-6
Pole vault — 1. Jake Willis, 13-0; 4. Ian McClellan, 11-0; 6. Cody Martin, 10-0
Long jump — 6. Dylan Scates, 19-8; 12. Adrian Whittington, 19-2; 15. Tyler Basso, 18-10
Triple jump — 2. Dylan Scates, 41-2; 7. Adrian Whittington, 40-1; 10. Tyler Basso, 37-4
Shot put — 10. Dallas Jacobs, 39-1.5; 11. Bryson Hewins, 38-7; 15. Tyler Stockman, 37-8
Discus — 5. Bryson Hewins, 132-3; 8. Stephen Wilson, 127-8; 11. Dallas Jacobs, 110-5
Javelin — 8. Richie Ridihalgh, 131-10; 10. Lucas Ahart, 124-10; 11. Dallas Jacobs, 124-1