Tonganoxie High School sets record with 7 state degrees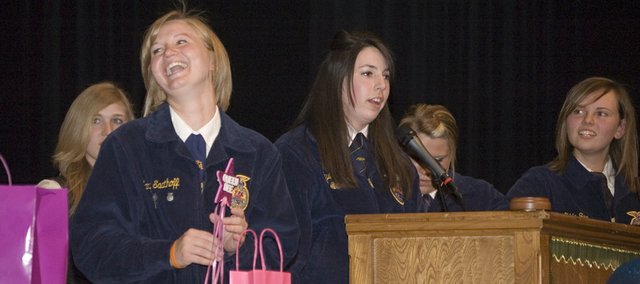 It was a record-breaking year for the Tonganoxie High School FFA Chapter.
Chapter members earned seven state degrees this school year — Andrew Bouza, Katelyn Colgrove, Hannah Gee, Nikki Gee, Alex Hauk, Daniel Holton and Tayler Miles were state degree recipients.
FFA adviser Randy Kraft said that marked the most state degrees in one year for THS.
The announcement was part of the Tonganoxie FFA Chapter banquet, which took place May 5 at THS.
The evening started with a meal at the THS cafeteria and then the ceremony continued at the Tonganoxie Performing Arts Center.
At the auditorium, festivities began with a slide show highlighting FFA activities during the 2009-10 school year. Chapter officers, sporting sunglasses, made their way to the stage while "I'm Too Sexy" by Right Said Fred played as the group's walk-in music.
Several awards were given out during the banquet, while FFA Chapter seniors shared remarks about their time in FFA, often thanking family and Kraft or sharing a humorous memory or two.
When FFA members walked across the TPAC stage, each gave 2009-10 president Hilary Saathoff a honey stick. It was later explained during the banquet that she was known as the Queen Bee during her year of presiding as FFA president.
Here is a list of honors and recognition announced during the banquet:
Greenhand Degree recipients
Savannah Bailey, Jody Baragary, Richard Black, Jared Colgrove, Jessica Martin, Wyatt Maurer, Alyssa Miller, Jeffery Rawls and Cody Saladin.
Chapter Degree recipients
Rachel Bieniecki, Austin Harkrader, Luke Dyleski, Makayla Leslie, Hunter Lohr, Heath Moore and Alyssa Winsor.
FFA Scholarship recipients
Hilary Saathoff and Richie Ridihalgh. Each received a $1,000 scholarship.
Alumni and chapter scholarships
Hilary Saathoff and Andrew Bouza. Each received a $500 scholarship.
Contest results
District
Land judging, fifth; district entomology, ninth; agronomy, ninth; dairy cattle judging, seventh; horse judging, second; Rachel Bieniecki, second individually in horse judging; dairy products, eighth; poultry judging, 12th; leadership school senior, seventh; leadership school greenhand team, seventh; master ritual president, Jody Baragary; public speaking, fifth; creed: Jody Baragary, first in freshman division, Rachel Bieniecki, fifth in junior division and Tayler Miles, third in senior division.
State land judging
Team placed second overall, while Hilary Saathoff and Daniel Holton each placed fourth individually.
More state judging
Horse, team of Rachel Bieniecki, Nicki Gee, Tayler Miles and Hilary Saathoff placed fourth. Bieniecki placed fifth individually.
Dairy cattle, team of Daniel Holton, Rachel Bieniecki, Hilary Saathoff and Richie Ridihalgh placed seventh.
Livestock, team of Hilary Saathoff, Richie Ridihalgh, Austin Harkrader and Hannah Gee placed 14th.
Fort Scott Aggie Days
Horse judging, eighth as a team with Rachel Bieniecki taking 10th individually; freshman speech, Jody Baragary, fourth; livestock judging, 18th as a team with Hilary Saathoff placing sixth individually.
FFA appreciation plaques
Plaques went to Brad Stuart and Ron Leslie.
2009-10 chapter officers
Hilary Saathoff, president; Tayler Miles, vice president; Nikki Gee, secretary; Richie Ridihalgh, treasurer; Hannah Gee, reporter; Andrew Bouza, sentinel; Katelyn Colgrove, day at the farm chair; Rachel Bieniecki, sweepstakes chair; Carson Simmons, student council representative; and Alex Hauk, alumni representative.
2010-11 chapter officers
Tayler Miles, president; Hannah Gee, vice president; Katelyn Colgrove, secretary; Nikki Gee, treasurer; Alex Hauk, reporter; Austin Harkrader, sentinel; Carson Simmons, day at the farm chair; Jody Baragary, sweepstakes chair; and Wyatt Maurer, student council and alumni representative.