Address from
THS

valedictorian Haley Field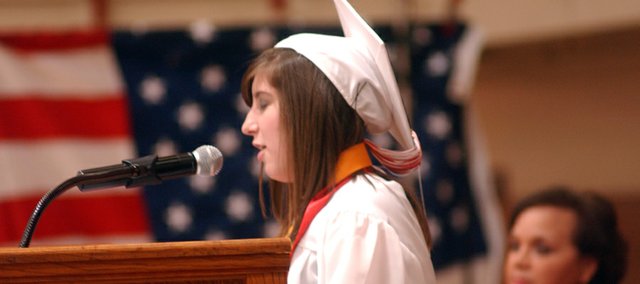 Editor's note: Here is the transcript of Tonganoxie High School valedictorian Haley Field's address during Saturday's THS commencement exercises.
Mr. Carlisle, teachers, school staff, family, and friends, thank you for coming tonight and celebrating with us as we graduate.
Fellow graduates, I would first like to ask, "how in the world did we end up here?" Let's begin with kindergarten, the bottom of the elementary school ladder. Maybe you would ride home on the little bus after a half day of school and watch "Arthur"... or possibly you were still infatuated with that big purple dinosaur "Barney".
Certainly, kindergarten was great and all, especially because there were naps, but... there was always that longing to be a "big" kid. We all dreamed of one day becoming "big bad sixth-graders." Sixth grade is the age where "serious" relationships were just beginning to emerge and we began watching shows like "Even Stevens" and "Lizzie McGuire," or maybe even the ever popular Nick show, "All That."
Now, it's pretty cool being at the top of the elementary food chain... but junior high... that's where we really want to be!! We finally move on to junior high... and get to experience our first school dances, which were awesome!
But, after awhile all we can really think about is how cool high school is going to be! I mean the seniors just always looked so cool and... grown up! Fast forward to the present... now we are the seniors. I don't know how "cool" and "grown up" we feel... but we have definitely ruled the high school!






Up until now, our lives have been scripted by others. Our choices of where to live and where to go to school have most often been made by parents or other authority figures.
But now what? What do we now? While our paths have been closely linked as students at Tonganoxie, they are going to start diverging wildly as we each leave high school and head down different paths. Some of us will go to get more education. Some of us will begin careers. Some of us may soon start families of our own. I can't tell any of you what you should do or what your life will hold, but I would like to share three truths about life that I believe can help us all as we venture out into the world.
Life Truth Number One. Life is short. We have learned this lesson the hard way as we have lost two of our friends and classmates who should be with us tonight. While we will never fully understand why Connor and Jeremy aren't here with us, we can know that life is fleeting whether it is a life of 18 years or 80 years. Knowing that life is short, we need to make the most of every day, every hour, and every minute.
Life Truth Number Two. Life is what we make of it. Each one of us has different challenges and opportunities in front of us. We know that we will face both good times and bad times because that is life in this world. Many times, the difficult things that happen in our lives are completely beyond our control. We can't control illnesses. Doctors can often help, but we have seen that sometimes there are no cures. We can't control the economic opportunities that are available to us. But, if you do figure out how to manipulate the economy, please give me a call because I'd like to go into business with you.
The great thing is that we can live our lives above our circumstances. We get to choose our attitude and how we will respond to every situation. If we live our life with a positive attitude, it will help us to work through the tough times and make the most of the good times. We can choose each day to aim for excellence. We can choose each day to be an encouragement to someone else. We can choose each day to share a smile with those we meet. We get to choose our attitude and what we make of what life throws at us.
Truth Number Three. Life is most meaningful when it is shared with others. We were not meant to live life alone. We were designed to share life with others in our families, our churches and our communities. We all struggle with selfishness and putting our own desires ahead of other people. The problem is that trying to please our selfish desires does not satisfy. The ancient writer Solomon was the Bill Gates and Warren Buffet of his day and he got everything he wanted. He had Mercedes Benz chariots, supermodel wives and lived in fabulous cribs. As he looked back upon his life in the fast lane, the word that came to his lips was "meaningless." All the pleasures of this life were incapable of bringing meaning in Solomon's day and it is still the same today.
Jesus gave us some pretty simple guidelines for finding meaning in our life. He told us to love God and love people. When life seems to be getting you down and discouragement is hard to overcome, find someone and show them some love. Don't fall into the lies that this world offers, but share a smile, offer a word of encouragement, or lend a helping hand to someone in need.
Life is short. Seize every moment.
Life is what we make of it. Keep a good attitude through good times and bad.
Life is most meaningful when shared with others. Laugh... love... encourage and serve others. I think that when we do, we will be living a life filled with true purpose and contentment regardless of where life leads us.
Thank you.