JWHS

sends Tonganoxie home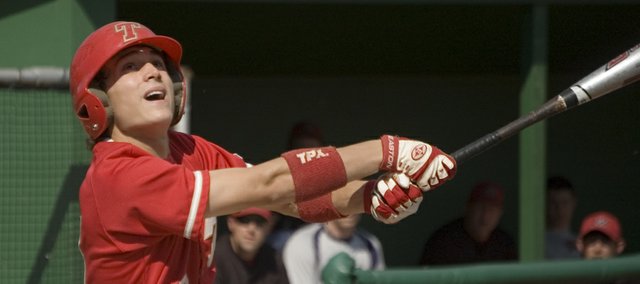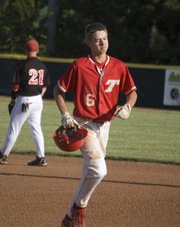 Photo Gallery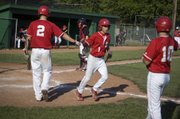 Tonganoxie baseball falls in 1st round
The Tonganoxie High baseball team was knocked out of the postseason in the first round of a Class 4A regional tournament. The Chieftains lost, 6-4, to Jeff West at Ozawkie.
Ozawkie — A four-run fifth inning wasn't enough to save the Tonganoxie High baseball season in the opening round of regional play Tuesday.
The fifth was the only frame in which the Chieftains were able to hang a number other than zero on the scoreboard and their season came to an end with a 6-4 loss to Jeff West.
THS was down 5-0 through four innings before it got back in the mix with a big fifth inning, which was sparked by the bottom of the lineup.
The seventh, eighth and ninth Tonganoxie hitters all reached base to start the inning. Dalton Harrington was hit by a pitch, Dylan Fosdick singled to right field and Austin Hrabe drove in the team's first run of the game with a single to center field.
After Dylan Caywood struck out, Jeremy Wagner slapped a two-run triple to right field that cut the Tigers' lead to two.
Ben Williams followed that up with a sacrifice fly that scored Wagner from third base. Ethan Lorance struck out to end the inning.
Lorance threw all six innings for Tonganoxie (4-13) in the season-ending loss, scattering five hits. The junior right-hander struck out three JWHS batters and walked six.
Jeff West (13-3) jumped out early with one run in the first and two apiece in the third and fourth innings.
Meanwhile, the Chieftains only had one base runner in the second, third and fourth innings after being retired in order in the first. Lorance singled in the second, Caywood singled in the third and Williams singled in the fourth. None of them were able to advance past second base.
THS had a chance to take a lead in the top of the sixth inning, when Dylan Puhr led off with a double to the right-field wall.
With one out, Harrington drew a walk, and with two down, Hrabe earned a base on balls, as well, to give Tonganoxie a runner on each bag.
With the bases loaded, though, Caywood struck out.