THS

softball shut out in semis
Chieftains get upset 'W' in 1st round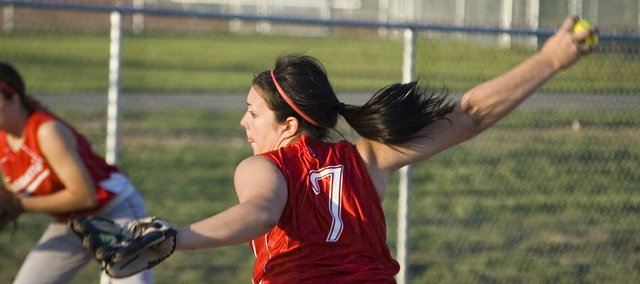 Photo Gallery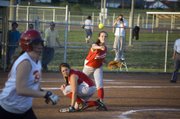 THS softball eliminated in semis
The Tonganoxie High softball team knocked off Atchison at a Class 4A regional softball tournament on Tuesday before losing to Perry-Lecompton in a semifinal.
Atchison — The Tonganoxie High softball team was able to pull off one playoff upset before bowing out in a regional semifinal Tuesday night.
The Chieftains, who entered the Class 4A regional tournament at Atchison Sports Complex as the No. 7 seed, knocked off No. 2 Atchison, 3-1, before falling, 3-0, to No. 6 Perry-Lecompton.
Although THS struggled against the Kaws, collecting only four hits in a season-ending loss, the team put together a solid postseason performance against AHS.
Senior pitcher Angela Jacobs led Tonganoxie (9-11) to victory with seven innings of work. She struck out four batters and allowed six hits and just two walks.
Jacobs even shook off a potential scare in the third inning, when a line drive ricocheted off her right shin. Not only did she stay in the game, but she retired two of the next three batters to get out of a jam.
Thanks to a little early offense, the Chieftains never trailed Atchison (11-6). Brooklyn Kerbaugh led off the playoff opener with a single and advanced to second base on a passed ball.
Then Haley Smith helped Kerbaugh get to third base with a sacrifice fly and Kaitlyn Woken drove her home with a sac fly of her own.
The 1-0 lead remained intact until the top of the third, when THS plated another run. Again, the leadoff batter would score after singling and this time it was Wolken.
Her single to center field was followed by a single from Fatherley and a sacrifice bunt from Makayla Leslie, which put the two base runners in scoring position.
After Amanda Holroyd walked to load the bases, Jacobs gave the team a two-run lead with a sacrifice fly.
Tonganoxie scored its final run in the top of the fourth, when Hannah Kemp led off with a double over the AHS left fielder's head.
Smith drove her in with a single to left field.
Leadoff hits weren't as productive against PLHS (11-9), though. Senior McKenzie Knight had one in the third and it appeared the Chieftains might be able to put together something. However, after loading the bases with one out, THS couldn't score.
Fatherley led off the top of the seventh by knocking a single up the middle, but she was the last of four Tonganoxie runners to be stranded in the season-ending loss.
Tiffany Jacobs threw all six innings against Perry-Lecompton. She struck out five batters, walked three and allowed seven hits.
The tournament's semifinals and final were originally scheduled for Wednesday, but after Monday postponements and fear of more wet weather Wednesday, the semifinals were pushed up to Tuesday evening.