Tip of the cap to
THS

,

MHS

classes of 2010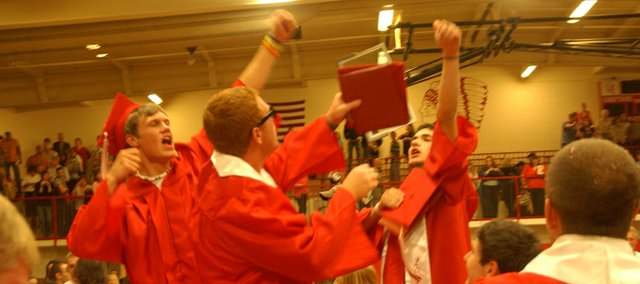 Moments into valedictorian Haley Field's speech, she asked the rhetorical question, "How in the world did we end up here?"
A faint "I don't know" came from one of her classmates as a capacity audience at the Tonganoxie High School gymnasium responded in laughter.
It was a light-hearted start to Field's speech, which touched on going through elementary school and junior high always wanting to be a "big" kid in high school.
But now, after several years of choices being scripted by parents and other authority figures, students will be heading down their own paths as classmates will be going in several different directions, Field said.
She also shared what she called "life truths" with her classmates: life is short, life is what one makes of it and life is most meaningful when it is shared with others.
Class president Lindsey Fatherley opened graduation with the welcome, thanking guests for attending and noting that the class has had more curveballs thrown at them than most high school students. She referred to the losses of two classmates, Jeremy Elliott and Connor Olson. Elliott died in the spring of 2009 from a heart condition, while Olson died after a bout with bone cancer that ended earlier this spring.
She thanked administrators for teaching students how to "respond, not react" to those losses of classmates.
The Class of 2010 did something no other class has done in the last several years: graduate inside.
Inclement weather forced the ceremony to be moved from Beatty Field inside to the THS gymnasium. The gymnasium was filled to capacity at 1,770 and overflow in the Tonganoxie Performing Arts Center put attendance at nearly 2,200, according to THS principal Jamie Carlisle.
After Fatherley's welcome, the senior ensemble sang "(I've had) The Time of My Life," made popular through the soundtrack of the 1980s movie "Dirty Dancing."
The Chieftain Singers followed with the group's tradition of singing "Maybe Someday" at each graduation.
National Honor Society members and students with 4.0 grade-point averages were recognized before recognition of salutatorian Sarah Swaim. In total, the Class of 2010 received $670,000 in scholarship money this year.
After Field's valedictory address, Carlisle spoke about the school year and the class coming together in times of tragedy. He commended them for their positive attitudes and selflessness.
"It's not been a good year; it's been a great year," Carlisle said, triggering a robust round of applause.
The THS principal then joked that students may not remember everything they learned in school: "like you may have forgotten when the War of 1812 happened."
He said he learned that reverse mohawks do not look good on senior boys and that senior pranks may never go away. The seniors unloaded hay bales throughout the THS parking lot for their senior prank this year.
He also quoted the motto of Team Tongie, "many times we don't need a miracle, we just need each other."
Next up for the seniors was the awarding of diplomas. As has been customary, seniors gave Carlisle an item as they walked across the stage to receive their diplomas. This year, several seniors gave Carlisle a single thumb tack.
He said after graduation that he wasn't sure what the thumb tacks were supposed to symbolize, but he joked that he would call them "Aim For Excellence" pins, referring to the mantra Carlisle has instilled in the high school each school year.
After all students received their diplomas, they collectively moved their tassels from right to left and then threw their mortar boards into the air and sprayed each other with Silly String. Family and friends then converged on the gymnasium floor to greet their new graduates and take snapshots with them.
The graduates headed off later Saturday to Leavenworth for Project Grad festivities.