Chieftains regional champs in 4 events
Tonganoxie sending 14 to state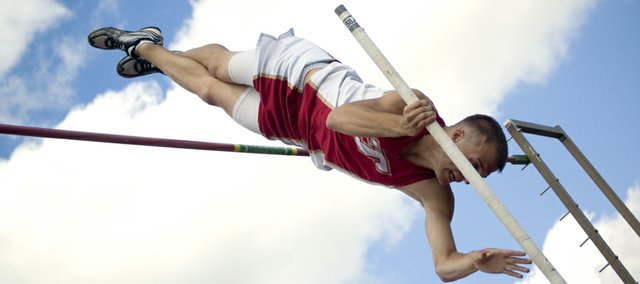 Photo Gallery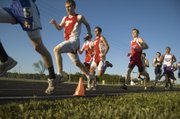 Tonganoxie hosts regional track
Tonganoxie High was the site for a Class 4A regional track meet on Friday and Chieftains won titles in four events.
Fourteen Tonganoxie High track athletes are headed to state after qualifying at a Class 4A regional meet at Beatty Field on Friday.
Six girls and eight boys will represent the Chieftains in 15 events at the state meet in Wichita next weekend.
THS had regional champions in four events. Jake Willis set a new school record in the boys pole vault with a jump of 14 feet, Andie Jeannin won the girls 800-meter race, Jenny Whitledge won the girls high jump with a new personal record of 5-5 and the boys 4x400 relay team of Bret Koch, Tyler Woolworth, Jeremy Carlisle and DJ Lindsay finished first in the evening's final event.
A top-four finish in any event equals state qualification at a regional and Tonganoxie had four second-place finishers — including two in the same event. Dylan Jacobs and Adrian Whittington tied each other for runner-up in the boys high jump with marks of 6 feet. Senior sprinter DJ Lindsay finished second in the 400-meter dash and Dannie Oelschlaeger was second in the girls pole vault with a mark of 8 feet.
Third-place finishers for the Chieftains' girls were Abby Eisman in the pole vault, Domino Grizzle in the shot put, Whitledge in the 400-meter dash and the 4x400 relay team of Eisman, Whitledge, Jeannin and Cristina Rubio.
The boys had three third place-finishers: Lindsay in the 200-meter dash, Carlisle in the 300-meter hurdles and Dylan Scates in the triple jump.
THS athletes locked up the final state-qualifying spots in three events. Rubio got fourth in the 400-meter dash, Grizzle was fourth in the discus and the boys 4x100 relay team of Koch, Willis, Carlisle and Lindsay finished fourth.
The state track meet begins this coming Friday at Cessna Stadium, in Wichita.
Complete regional track results are available via Ticker Timing at http://results.tickertiming.com/2010/Outdoor/Reg12/
Class 4A regional
At Tonganoxie
Girls
Team points: 1. Baldwin, 112; 2. Tonganoxie, 65; 3. Piper, 64; 4. Sumner Academy, 63; 5. De Soto, 58; 6. St. James Academy, 49; 7. Eudora, 33; 8. Jeff West, 25; 9. Perry-Lecompton, 23; 9. Topeka-Hayden, 23; 11. Basehor-Linwood, 12; 12. Santa Fe Trail, 11; tie-13. Bishop Ward, 10; tie-13. Hiawatha, 10.
THS results
400-meter dash — 3. Jenny Whitledge, 1:02.66; 4. Cristina Rubio, 1:02.76
800 meters — 1. Andie Jeannin, 2:23.63
100-meter hurdles — 5. Abby Eisman, 17.52
300-meter hurdles — 9. Shelby Maxon, 53.02
4x100 relay — 6. Emma Slater, Shelby Maxon, Cristina Rubio, Andie Jeannin, 54.21
4x400 relay — 3. Abby Eisman, Jenny Whitledge, Andie Jeannin, Cristina Rubio, 4:15.63
4x800 relay — 9. Abby Thomas, Nikki Beggs, Alex Hauk, Lauren Hall, 11:24.37
High jump — 1. Jenny Whitledge, 5-5
Pole vault — 2. Dannie Oelschlaeger, 8-0; 3. Abby Eisman, 7-6
Shot put — 3. Domino Grizzle, 38-9.5; 12. Makayla Sample, 29-11
Discus — 4. Domino Grizzle, 111-7; 7. Holly Thompson, 91-0
Javelin — 5. Jo Kissinger, 104-5; 11. Madi Yates, 98-0
Boys
Team points: 1. Baldwin, 81; 2. De Soto, 76; 3. Tonganoxie, 71.5; 4. Eudora, 58.5; 5. Piper, 51; 6. Hiawatha, 40; 7. St. James Academy, 34; 8. Pleasant Ridge, 30; 9. Perry-Lecompton, 28; 10. Basehor-Linwood, 24; 11. Santa Fe Trail, 22; tie-12. Atchison, 12; tie-12. Topeka-Hayden, 12; 14. Bishop Ward, 10; 15. Sumner Academy, 5; 16. Jeff West, 3.
THS results
200-meter dash — 3. DJ Lindsay, 23.18
400-meter dash — 2. DJ Lindsay, 51.49
800 meters — 16. Matt Titterington, 2:16.37
1,600 meters — 5. Matt Briggs, 4:52.66; 8. Caleb Himpel, 4:59.92
3,200 meters — 19. Cooper Gish, 12:40.24
300-meter hurdles — 3. Jeremy Carlisle, 41.79; 6. Bret Koch, 43.62
4x100 relay — 4. Bret Koch, Jake Willis, Jeremy Carlisle, DJ Lindsay, 44.74
4x400 relay — 1. Bret Koch, Tyler Woolworth, Jeremy Carlisle, DJ Lindsay, 3:30.96
High jump — tie-2. Dylan Jacobs, 6-0; tie-2. Adrian Whittington, 6-0
Pole vault — 1. Jake Willis, 14-0; 5. Ian McClellan, 10-6
Long jump — 7. Dylan Scates, 20-0; 8. Adrian Whittington, 19-1.5
Triple jump — 3. Dylan Scates, 41-0; 9. Adrian Whittington, 36-9
Shot put — 7. Dallas Jacobs, 42-5; 14. Bryson Hewins, 38-7
Discus — 5. Stephen Wilson, 136-3; 6. Bryson Hewins, 133-0
Javelin — 15. Richie Ridihalgh, 139-5; 16. Lucas Ahart, 137-2