Leavenworth County commissioners ask Tonganoxie to redraw revitalization maps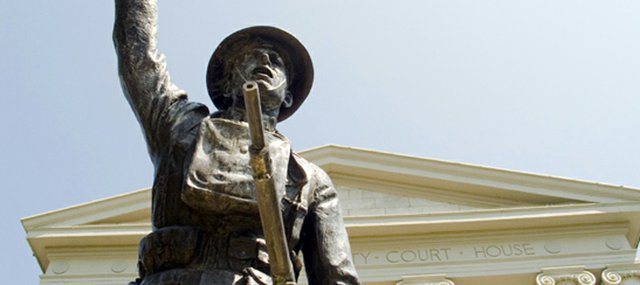 A revitalization agreement between the city of Tonganoxie and Leavenworth County ran afoul of one Leavenworth County commissioner getting "religion."
The conversion in this case was Commissioner J.C. Tellefson's adoption of Commissioner Clyde Graeber's opposition to revitalization plans offering rebates for construction on undeveloped ground now used for agricultural purposes.
The Tonganoxie City Council approved a revitalization plan last month that would offer a property tax rebate on a renovation or new construction equaling 95 percent of a project's taxable value the first three years after completion and 50 percent the fourth and fifth years. To qualify, improvement projects must be of at least $5,000. New construction projects would have to be more than $100,000.
The right to develop revitalization plans is limited to cities, but the governing bodies of effected taxing jurisdictions must adopt interlocal agreements before rebating their shares of increased tax revenue.
Last month, the Tonganoxie USD 464 Board of Education tabled a proposed interlocal agreement on the same revitalization plan so that the Kansas Association of School Boards could review the document.
Tellefson's objections was not the first time the city's plan was criticized for including undeveloped land in addition to the city's older sections. Tonganoxie City Councilwoman Paula Crook voted against the city plan after asking the undeveloped land be removed.
At that time and again Thursday, assistant Tonganoxie city administrator Kathy Bard said the undeveloped sections were in the flood plain along Tonganoxie Creek, had other environmental issues that made development problematic or were within the city's industrial park where better incentive packages were available.
On Thursday, Tellefson told Bard and Tonganoxie City Administrator Mike Yanez that he "got religion" after approving a city of Basehor revitalization plan last year that allowed rebates on vacant ground.
He revisited Basehor's plan in March with the hopes of rescinding it but backed off when Basehor City Council members said the city had invested in promotional and marketing material based on the plan.
Although he praised the proposed Tonganoxie plan for excluding newer subdivisions, Tellefson contrasted it and the plans of Basehor and Lansing with that of Leavenworth, which does not provide rebates on agricultural lands.
Moreover, Tellefson said he wouldn't support the Tonganoxie agreement until the USD 464 board made its decision because he didn't want to pressure it to join in the rebates.
Commission John Flower took a more favorable view of the Tonganoxie plan. The county only would be giving back tax dollars it would not have received without the incentive, he said.
Flower did, however, suggest if his fellow commissioners found rebates on construction in vacant fields objectionable, they consider a charter resolution preventing the county's participation in plans with such properties.
With two commissioners clearly opposed to the plan, Yanez said he would take an amended plan back to the city council.
At Monday's city council meeting, Yanez said the amended plan would be presented June 14.