Post office move gives urgency to retail/commercial committee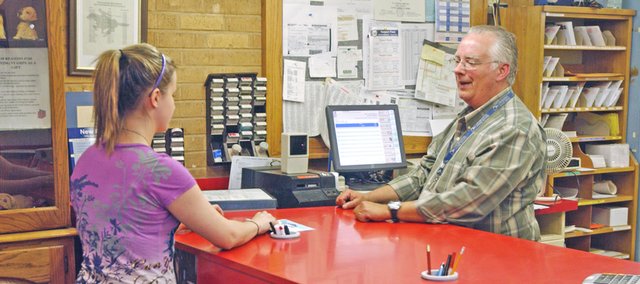 On Tuesday, Dale Dunlap stepped into the Tonganoxie Post Office with two packages to place in the mail.
The rural Tonganoxie man said he made about one visit a week to downtown to take care of business at the post office. About 50 percent of the time, he visited his insurance agent, the Downtown Pharmacy or the West End Cafe while downtown, Dunlap said.
"I'll still visit when they move the post office," he said. "Not as much though."
From 600 to 900 people a day visit the post office to check mail at its 540 rented boxes, make a purchase of stamps or other items at the window or post a letter, Tonganoxie Post Master Ron Hubbard said.
That's a lot of downtown traffic to replace when the post office moves to its new site in northeast Tonganoxie sometime in the coming weeks.
"We've been working on that, "Mayor Mike Vestal said. "We have a committee looking in to that."
The retail/commercial development committee has been around for a few months, Vestal said. He is now attempting to schedule a June meeting.
"The city has given us $10,000," he said. "At the next meeting, we'll elect a president and vice president and board."
Also on the agenda is the opening of bids for downtown banners that will be placed along Fourth Street from Main to Green streets, Vestal said.
The committee's charge is to increase commercial development in Tonganoxie in general, committee member Bill Peak said. But he said there was a focus on downtown.
That effort has increased urgency with the impending move of the post office and the recent closing of the Village Floral and Gift Shoppe next door, Peak said.
Part of the effort will be to share information on rental costs, footage, ownership and other details of downtown storefronts with businesses thought to be good fits, he said.
"Not major chains by any means," he said. "We're looking at small, successful businesses in other communities that might fill a niche.
"So all that is open right now as far as what we can get downtown."
One of the businesses Peak identified as a good fit for the post office was a UPS store — a possible reuse also mentioned by committee member Lana Howe, owner of Vintage Soap and Bath and co-owner with Jamie Carlisle of the Coffee Depot at 626 Fourth St.
The recent success on 600 block of Fourth Street, where a clothing store has opened next to her business, shows the potential of downtown Tonganoxie, Howe said.
"I just see great things for downtown," she said. "I'm really excited about getting together and working to keep things going."