Tonganoxie athletes bound for state
14 Chieftains headed to Wichita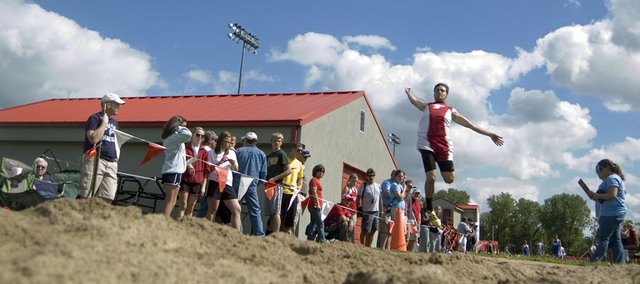 Photo Gallery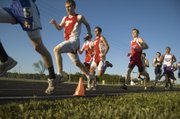 Tonganoxie hosts regional track
Tonganoxie High was the site for a Class 4A regional track meet on Friday and Chieftains won titles in four events.
Tonganoxie High will be well represented when the 100th KSHSAA State Track and Field Championships get under way this weekend in Wichita.
Fourteen Chieftains will be competing at Cessna Stadium thanks to a successful Friday evening on their home turf. THS athletes won four Class 4A regional titles at Beatty Field and finished in the top four (securing a state invite) in 15 events.
The first regional championship for Tonganoxie came early in the afternoon, when junior Jake Willis broke his own school record in the pole vault with a mark of 14 feet and the second came minutes later in the high jump, when freshman Jenny Whitledge set a personal record of 5-5.
Senior Andie Jeannin secured a regional championship in the 800-meter run and the night was capped with a thrilling finish in the 4x400 relay as Bret Koch, Tyler Woolworth, Jeremy Carlisle and DJ Lindsay held off Baldwin and Piper for a victory.
Lindsay gave Carlisle credit for the regional title. THS was in fifth place when he took off and ran the best split of his prep career.
"He saved it. I'm so glad he did," Lindsay said of Carlisle. "I'm proud of him."
At one point Friday, it looked as though Lindsay might not even be running for the 4x400 team, let alone helping it to a regional victory. The senior sprinter went down on the track after tweaking his left hamstring in his final steps of the 4x100 relay, in which THS finished fourth to qualify for state.
That was before the 200- and 400-meter dashes, two races in which Lindsay was expected to finish high, if not win. He stretched out his sore leg as much as he could and found a way to take second place in the 400 and third in the 200.
So why was he confident he could run through the pain?
"I wasn't," Lindsay said. "I was scared. I actually cried over there because I thought I was done."
It was the senior's drive to succeed that kept him going.
"I don't like losing enough that I was able to do it," he said.
State qualifiers
Along with Lindsay, Tonganoxie had three other second-place finishers at the regional. Dannie Oelschlaeger was second in the pole vault (she will compete at state with teammate Abby Eisman, who was third in the event), while the other two runners-up came in the same event, the boys high jump.
Dylan Jacobs and Adrian Whittington tied each other with leaps of 6 feet.
Earlier this season, Jacobs was the only high-jumper for THS, but Whittington joined the mix in the last few weeks. Jacobs suspected Whittington would catch on quickly.
"I knew Adrian had it in him," Jacobs said. "It's good to see that he's more driven to do it and he's a lot happier about doing it now."
Of course, Tonganoxie jumps coach Chris Weller was extremely happy to see three of his jumpers (including Whitledge) qualify for state.
"The greatest thing is two of the three peaked out and had their best jumps ever," Weller said of Whitledge and Whittington.
Jacobs wasn't surprised about their success because Weller has coached at least one high jumper at state each year going back to 1994, a year after Jacobs was born.
"Weller's been here a couple thousand years," Jacobs joked, "and he's consistently had high-jumpers go to state."
Among the Chieftains' slew of third-place finishers at the regional was the girls 4x400 relay team of Eisman, Whitledge, Jeannin and Cristina Rubio. Whitledge also was third in the 400-meter dash, giving her three state qualifying events as a freshman.
"It just feels amazing to work that hard and have it pay off," she said with a big smile on her face.
Domino Grizzle's third-place finish in the shot put was the best showing by a THS thrower. Meanwhile, Dylan Scates qualified for state in the triple jump for the second straight year by finishing third in that event and Carlisle finished third in the 300-meter hurdles.
Tonganoxie also had fourth-place finishes from Rubio in the 400-meter dash and Grizzle in the discus.
Close calls
A few Chieftains, however, came painfully close to qualifying for state before coming up short by placing fifth.
Eisman was one place away in the 100-meter hurdles and freshman Jo Kissinger ended up fifth in the javelin.
Among THS boys, Matt Briggs was fifth in the 1,600-meter run, Ian McClellan's pole vault of 10-6 earned him fifth place and Stephen Wilson finished his high school career with a fifth-place throw in the discus.
Boys track coach Phil Williams said a few athletes were just off on the wrong day.
"There were a couple of kids who didn't have a good day who could have qualified, but it's almost impossible for everyone to have a good day at the same time," Williams said.
The Tonganoxie boys finished third in the team standings but were less than 10 points behind regional champ Baldwin and only 4.5 points behind runner-up De Soto.
The girls ended up in second place, barely, which pleased their coach, Weller.
"It was a great performance," he said. "We had talked earlier, we didn't think we could beat Baldwin but we thought we could get second place."
The girls' third-place finish in the 4x400 sealed second place for the team. Those six points put the Chieftains one ahead of Piper and two ahead of Sumner Academy.
Class 4A regional
At Tonganoxie
Girls
Team points: 1. Baldwin, 112; 2. Tonganoxie, 65; 3. Piper, 64; 4. Sumner Academy, 63; 5. De Soto, 58; 6. St. James Academy, 49; 7. Eudora, 33; 8. Jeff West, 25; 9. Perry-Lecompton, 23; 9. Topeka-Hayden, 23; 11. Basehor-Linwood, 12; 12. Santa Fe Trail, 11; tie-13. Bishop Ward, 10; tie-13. Hiawatha, 10.
THS results
400-meter dash — 3. Jenny Whitledge, 1:02.66; 4. Cristina Rubio, 1:02.76
800 meters — 1. Andie Jeannin, 2:23.63
100-meter hurdles — 5. Abby Eisman, 17.52
300-meter hurdles — 9. Shelby Maxon, 53.02
4x100 relay — 6. Emma Slater, Shelby Maxon, Cristina Rubio, Andie Jeannin, 54.21
4x400 relay — 3. Abby Eisman, Jenny Whitledge, Andie Jeannin, Cristina Rubio, 4:15.63
4x800 relay — 9. Abby Thomas, Nikki Beggs, Alex Hauk, Lauren Hall, 11:24.37
High jump — 1. Jenny Whitledge, 5-5
Pole vault — 2. Dannie Oelschlaeger, 8-0; 3. Abby Eisman, 7-6
Shot put — 3. Domino Grizzle, 38-9.5; 12. Makayla Sample, 29-11
Discus — 4. Domino Grizzle, 111-7; 7. Holly Thompson, 91-0
Javelin — 5. Jo Kissinger, 104-5; 11. Madi Yates, 98-0
Boys
Team points: 1. Baldwin, 81; 2. De Soto, 76; 3. Tonganoxie, 71.5; 4. Eudora, 58.5; 5. Piper, 51; 6. Hiawatha, 40; 7. St. James Academy, 34; 8. Pleasant Ridge, 30; 9. Perry-Lecompton, 28; 10. Basehor-Linwood, 24; 11. Santa Fe Trail, 22; tie-12. Atchison, 12; tie-12. Topeka-Hayden, 12; 14. Bishop Ward, 10; 15. Sumner Academy, 5; 16. Jeff West, 3.
THS results
200-meter dash — 3. DJ Lindsay, 23.18
400-meter dash — 2. DJ Lindsay, 51.49
800 meters — 16. Matt Titterington, 2:16.37
1,600 meters — 5. Matt Briggs, 4:52.66; 8. Caleb Himpel, 4:59.92
3,200 meters — 19. Cooper Gish, 12:40.24
300-meter hurdles — 3. Jeremy Carlisle, 41.79; 6. Bret Koch, 43.62
4x100 relay — 4. Bret Koch, Jake Willis, Jeremy Carlisle, DJ Lindsay, 44.74
4x400 relay — 1. Bret Koch, Tyler Woolworth, Jeremy Carlisle, DJ Lindsay, 3:30.96
High jump — tie-2. Dylan Jacobs, 6-0; tie-2. Adrian Whittington, 6-0
Pole vault — 1. Jake Willis, 14-0; 5. Ian McClellan, 10-6
Long jump — 7. Dylan Scates, 20-0; 8. Adrian Whittington, 19-1.5
Triple jump — 3. Dylan Scates, 41-0; 9. Adrian Whittington, 36-9
Shot put — 7. Dallas Jacobs, 42-5; 14. Bryson Hewins, 38-7
Discus — 5. Stephen Wilson, 136-3; 6. Bryson Hewins, 133-0
Javelin — 15. Richie Ridihalgh, 139-5; 16. Lucas Ahart, 137-2