Tonganoxie golfers 4th at state
Yates 2nd in Class 4A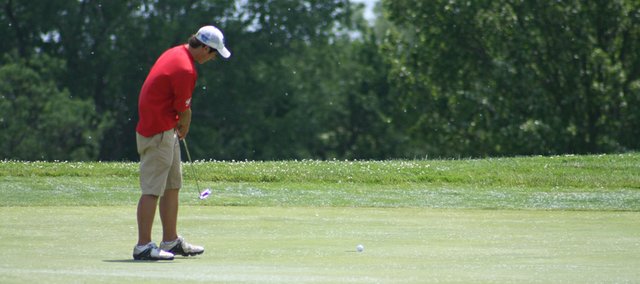 Photo Gallery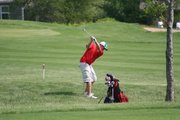 Chieftain golfers 4th at state
Tonganoxie High assistant golf coach David Walker documented the team's trip to the state tournament in Hesston this past weekend. The Chieftains finished 4th in Class 4A.
In its very first trip to the state golf tournament as a team, Tonganoxie High encountered a lengthy course with winds whipping around at 25 miles per hour and walked away as the fourth best team in Class 4A.
The Chieftains, led by sophomore Colby Yates, who placed second overall with a 75, shot 344 at Hesston Golf Park on Monday, finishing one stroke ahead of fifth-place Jeff West and just two strokes behind third-place Wellington.
"I was very, very happy to be two shots away from bringing home a trophy," THS golf coach Jared Jackson said of finishing fourth out of 12 teams at state. "That was just an unbelievable effort from the kids."
What made it remarkable was the way the Tonganoxie golfers finished. After the first nine holes, when scores were posted, the Chieftains were near the bottom of the pack.
But on the back nine, they made a huge push. Yates, as well as seniors Mitch DeHoff and Justin Jacobs, improved their scores by four strokes on the back nine and Tanner Hale was one stroke better.
"Most of the teams actually shot worse, so all of the sudden we just started moving up the board real quick," Jackson said.
Yates couldn't believe the huge leap the team was able to make.
"I was shocked we finished that good," the sophomore said. "We didn't play that good and it just kind of hurts to get that close and not get it (a state trophy)."
DeHoff, too, said he was disappointed at first because he thought they might be able to get third (St. James Academy was champion with 330 after winning a tie-breaker with Topeka-Hayden). But then he looked at it from another point of view.
"Fourth is actually really great," said DeHoff, who finished with an 86. "I know everyone feels like they could've played better but fourth at state, the first year we've gone, that's amazing."
Major wind gusts affected everyone at Hesston and scores were higher than normal for just about every golfer. Jacobs shot 90, Tanner Hale had 93 and Kody Campbell finished at 97, while Eric Laboyteaux had to withdraw because he was having issues with his wrist.
"The wind definitely wreaked havoc on a couple of guys from our team," said DeHoff, who had the wind detour his shot on more than one occasion.
Yates said the wind had the biggest impact on his putting as it altered his concentration at times. Still, Yates was able to finish just two strokes behind Wellington's Miles Miller, the defending 4A champion.
"I'm glad I finished second because that kid is the best in the state of Kansas," said Yates, who was 14th at state in 2009.
The sophomore was just as pleased with the team's performance this season.
"It's the best in school history," Yates said. "I think we earned it because we worked hard everyday. We practiced if it was nice out, we practiced if it was freezing and raining out. We put in the work to finish that good."
Class 4A State Golf
Monday at Hesston Golf Park
Team scores: 1. St. James Academy, 330; 2. Topeka-Hayden, 330; 3. Wellington, 342; 4. Tonganoxie, 344; 5. Jeff West, 345.
THS scores: 2. Colby Yates, 75; tie-29. Mitch DeHoff, 86; Justin Jacobs, 90; Tanner Hale, 93; Kody Campbell, 97; Eric Laboyteaux, withdrew (wrist).