Area Memorial Day services abound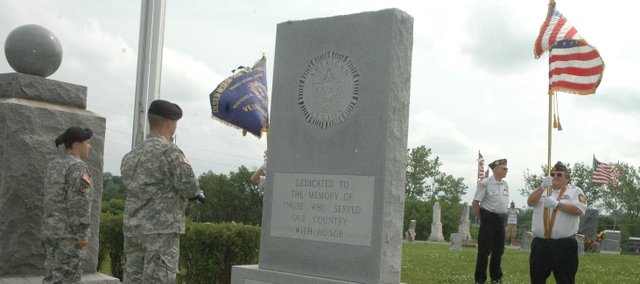 Memorial Day weekend services in Leavenworth County, Bonner Springs and Edwardsville:
Friday
• U.S. Air Force Heartland of America Band will present a free Brass in Blue concert. Doors open at 6:30 p.m. and the concert begins at 7 p.m. at the Lansing High School Auditorium, 220 Lion Lane, in Lansing. Brass in Blue is a 13-member brass ensemble composed of ten brass players, two percussionists and a vocalist.
Saturday
• Boy Scouts and Girl Scouts will place flags on roughly 50,000 veterans' graves at the Fort Leavenworth and Leavenworth National cemeteries.
Sunday
• Tonganoxie VFW services: 1 p.m. at Tonganoxie VFW Park. VFW members in uniform will conduct a rifle salute and "Taps" will be played. Rev. Mike Bronson of West Haven Baptist Church in Tonganoxie will speak at the service.
• Memorial services in the McLouth area: 1 p.m. at Fowler Cemetery and 2:30 p.m. at Wildhorse Cemetery.
• Memorial service in the Jarbalo area: 2 p.m. at Fall Creek Cemetery.
• Edwardsville will have services at 2 p.m. at the Edwardsville Cemetery, 1501 S. 104th St., Edwardsville.
Monday
• Leavenworth National Cemetery's annual service will be at 9 a.m. The ceremony is scheduled to last about one hour and ends with a 21-gun salute by the 500th Military Police from Fort Leavenworth and the playing of "Taps." Brass in Blue will perform patriotic music before and after the ceremony.
Attendees are encouraged to arrive early.
Parking is available at the flagpole across from Building 19 on the main grounds of the Dwight D. Eisenhower VA Medical Center, 4104 Fourth St., in Leavenworth, with shuttle transportation provided to the National Cemetery, 150 Muncie Road.Limited handicapped parking is available.
• At 10 a.m. services will take place at the Bonner Springs Cemetery, Metropolitan Avenue and Sheidley Street.
• Memorial services will be 11 a.m. at McLouth Cemetery.
• The Basehor VFW will have its annual service at noon at Glenwood Cemetery, which is 0.4 miles south of U.S. Highway 24-40 on 158th Street (County Road 2) near Basehor.