Honor and sacrifice
Veteran reflects on past as Memorial Day nears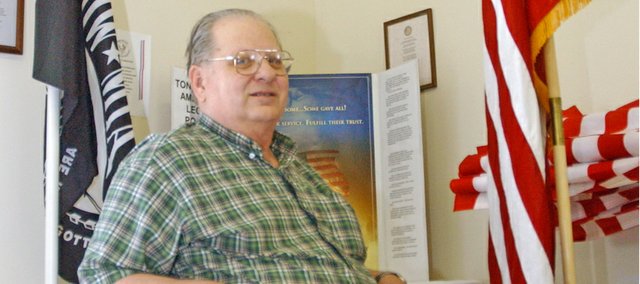 Jim Rogers was an angry young man in the early 1970s.
His anger was understandable. Rogers lost his legs in the service of his country only to return home to find few valued his sacrifice in an unpopular war.
Rogers' life-changing injuries came 90 days into his tour of duty in Vietnam.
"I remember being on the plane on Thanksgiving day," he said. "I was wounded the last day of February in 1969."
Rogers' road to war started with his 1965 enlistment in the National Guard. It was a hard-to-get posting in the day as the Guard was supposed to be a refuge against active duty and possible deployment to Vietnam.
But many Guardsmen found that hope washed away as fighting intensified in the late 1960s. Rogers was called to active duty in July 1968, a year that started with the joint Viet Cong and North Vietnamese onslaughts of the Tet Offensive.

After additional training in Fort Carson, Colo., Rogers found himself a 22-year-old grunt assigned the 9th Infantry Division's Mobile Riverine Force.
The outfit was engaged in a war of cat and mouse with Viet Cong guerillas in the Mekong Delta south of Saigon. While the fighting wasn't as intense as that in the northern parts of the county, where the Marines fought Viet Cong and North Vietnam Regulars, it could flare up as the outfit pursued aggressive tactics against the enemy.
"We chased them, mostly," he said. "We patrolled along the river in Navy landing craft. They would take us in upstream. They'd take us in with helicopters, too."
Splintered wood
Rogers was wounded on a day he and others were securing a base camp so that the unit's wounded could be evacuated. Somewhere in the surrounding brush, a guerilla watched and waited for the right time to detonate a buried explosive device.
"I was closing the last leg of the perimeter," he said. "When I got close enough, they just blew it on me. I was thrown seven or eight feet in the air and three to four feet sideway.
"I remember it all. I looked down. My legs looked like hamburger. If you've ever seen a high-powered go through a tree, the back of it gets all splintered. That was what the bones looked like."
Five soldiers were killed in the blast and about 10 wounded. He survived because a helicopter was already on its way to pick up the wounded from earlier fighting, Rogers said.
He spent time in two hospitals in Vietnam and another in Okinawa, Japan, before he was placed in Fitzsimons Army Medical Center near Denver. There he said, he saw his family and friends.
He returned to his parents' home eight months after being wounded. He would eventually move to Tonganoxie in 1972 to a home custom-built for his needs.
His post-war adjustment was difficult, Rogers aid. His wounds "kind of retired" him, and he had plenty of time to think and get angry.
"I was kind of mad at the whole world," he said. "It took about five or seven years to get over that. I just didn't care. My parents, they took it a lot."
America's attitude toward the Vietnam War and its veterans fed his resentment. It's an anger that still flashes when Rogers remembers Jane Fonda's visit to North Vietnam during the conflict and President Gerald Ford's pardon of those who fled to Canada to avoid the war.
"The biggest slap in the face we got was when the draft dodgers who went to Canada were pardoned," he said.
Wheelchair sports, particularly basketball, got him out of his post-war funk, Rogers said.
The anger is behind him, and these days Rogers shares his congeniality with a regular weekday coffee gathering at the Tonganoxie Mr. Goodcents. He and his wife, Mary, will celebrate their 16th anniversary June 6.
VA battles
If there is any of the old bitterness left, it's purpose now is directed toward the bureaucrats of the Department of Veterans Affairs.
"They would like to see you die because that would be cheaper — that's the feeling you get," Rogers said. "It seems like the VA doesn't want to recognize veterans five years after their war is over."
His problem with the VA is with his doctors, Rogers said. He's had seven or eight doctors in the last six years.
It's a turnover rate that doesn't lead to consistency.
"I've been misdiagnosed two or three times by VA doctors," he said. "If it weren't for my wife telling to go to her doctor, I may not be here."
Rogers has had non-Hodgkin's lymphoma and esophagus cancer. The illnesses, which are now in remission, can perhaps be traced to wading in water contaminated with runoff of the Vietnam ear defoliant Agent Orange.
Rogers has found a positive way to deal with his frustration with the VA. He's a member of the Veterans of Foreign Wars, American Legion and Disabled American Veterans. He restarted Tonganoxie's moribund American Legion chapter, serving as post commander from 2002 to 2009 and growing it from 14 to 90 members.
The voice of those organizations and the information they provide are invaluable for veterans looking to secure promised benefits from the VA, Rogers said. That is something young men and women returning from the country's current wars need to remember, he said.
"They might not want to have anything to do with veterans' organizations, but they need to," he said. "They wouldn't have the benefits they have if it weren't for veterans fighting for them."
On Memorial Day, people are reminded for the sacrifices those who served in the armed forces made for them. But Rogers, who doesn't need a calendar to be reminded of sacrifice, said it was a debt Americans should remember throughout the year.
"I just feel grateful for what veterans did for this country so that we can have the life we do," he said. "A lot of people don't understand what veterans did to give them their opportunities."