Republicans square off at
BBQ

, but stand united against Dems
Republican candidates were busy touting their party at Saturday's Leavenworth County Republican Party Barbecue in Tonganoxie.
But a few candidates also took time to spar with fellow Republicans with August primaries on the horizon.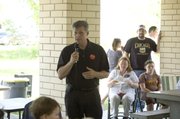 U.S. Rep. Todd Tiahrt, who is running against fellow Republican and U.S. Rep. Jerry Moran in a U.S. Senate race, said his voting record differed from Moran's, noting that he didn't vote for increases in income tax and other taxes as Moran has.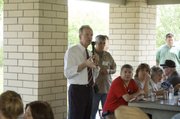 Tiahrt also mentioned that he saw tax, regulatory and litigation reforms as keys in improving the economy, as well as a free market for health care and energy independence. Tiahrt also stressed the importance of securing the nation's borders.
Moran was the first candidate to speak at the event and told those in attendance that work in Washington, D.C., needed to go beyond Election Day, as he said some there think "long-term in D.C. is next November."
In addition, Moran admitted that when the Republicans had control of Congress and the White House, there were mistakes made, including issues with spending. But he noted with Democratic control, it's "exponentially worse."
Moran mingled with people at the event before he spoke but had to leave shortly after his talk because he was off to attend the celebration of his parents' 73rd wedding anniversary.
Spectators also heard from candidates in another primary race: incumbent U.S. Rep. Lynn Jenkins and challenger Dennis Pyle, who currently is a state senator from Hiawatha.
Pyle said he is a true conservative, noting that if elected he would fight to repeal and overturn Roe v. Wade. He has a 100 percent rating from Kansans For Life and an A+ rating from the National Rifle Association.
He also painted Jenkins as not a true conservative, pointing out that she was one of nine Republicans to vote against an amendment that would have stripped Planned Parenthood of its taxpayer funding through family planning programs. Mike Pence, R-Ind., introduced the amendment, which failed.
Pyle said voters needed to evaluate Jenkins as a representative and ask "is that rhetoric or is that record?"
When Jenkins stepped to the microphone, she said she was disappointed that the race was coming down to "raw politics" and had hoped to be focusing efforts on battling Democrats, to which a woman in the audience said, "democracy at work."
Jenkins then spoke of those in her party. "I believe Republicans on our worst day are better than Democrats on their very best day," she said.
The incumbent then listed her endorsements, including that of Rep. Pence and the American Conservative Union and full support from the NRA.
Other local and state candidates spoke at the barbecue, including secretary of state candidates Kris Kobach and Elizabeth Ensley.