Town ready to cowboy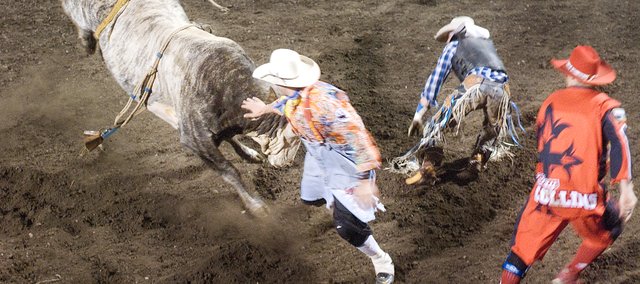 Signs throughout Tonganoxie have served as a reminder in recent weeks of the main event coming to Tonganoxie.
Beginning Thursday, the main event comes to the Leavenworth County Fairgrounds.
The Abdallah Shrine Rodeo returns to Tonganoxie, kicking off at 7:30 p.m. Thursday with the first night of rodeo events at the fairgrounds. The three-day event, which has taken place in Tonganoxie each year since 2007, will conclude Saturday.
A craft show will be offered from 6-10 p.m. Thursday, Friday and Saturday as artists, crafters and vendors will be selling products.
The rodeo will begin at 7:30 p.m. each night. Events this year: bareback riding, bull riding, women's barrel racing, calf roping, saddle bronc riding, steer wrestling and team roping.
Tickets for the event may be purchased at B&J Country Mart in Tonganoxie, the Shrine Rodeo office, 5300 Metcalf Ave., in Overland Park, or at participating O'Reilly Auto Parts stores.
And Thursday, Friday and Saturday, the rodeo sales booth will be open from noon until after rodeo at the fairgrounds on Kansas Highway 16 in Tonganoxie.
Ticket prices are $12 for adults and $4 for youths ages 6-12. Youths younger than 6 are admitted free with an adult ticket purchase. Family fun packs and single tickets are available online at shrinerodeo.com.
The fun pack contains two adult tickets, two youth tickets, four hot dogs and four drinks for $40.
For more information, send an email to rodeo-info@shrinerodeo.com or call the Shrine Rodeo office at (913) 362-5300.