3 Chieftains win state medals Friday
Lindsay, 4x400 team make finals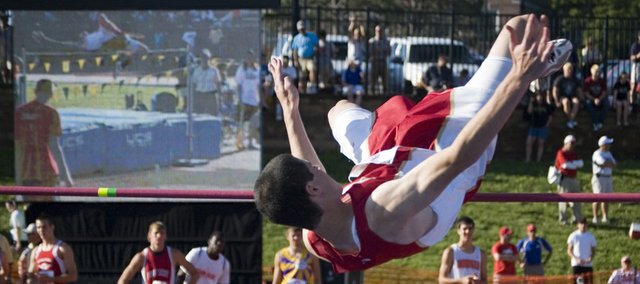 Photo Gallery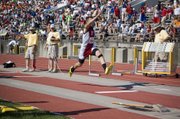 THS track at state — Friday
Tonganoxie High athletes brought home three state medals Friday at Cessna Stadium in Wichita.
Wichita — Tonganoxie High athletes got things started at the 100th KSHSAA State Track and Field Championships Friday at Cessna Stadium by winning three state medals.
Junior pole vaulter Jake Willis took fifth with a mark of 13-6, junior Dylan Scates was sixth in the triple jump after posting 41-11 and sophomore Dylan Jacobs tied for sixth in the high jump with a leap of 6-0.
The Chieftains also had some success in Friday prelims as DJ Lindsay qualified for Saturday finals in both the 200- and 400-meter dashes and teamed with Bret Koch, Tyler Woolworth and Jeremy Carlisle to make the 4x400 relay final.
Lindsay ran the 200 in 22.40 seconds, the fifth best in the Class 4A prelims, after showing the No. 1 prelim time, 49.62, in the 400. The boys 4x400 relay team finished second in its heat to Mulvane and ran the race in 3:25.16 — a better time than the other heat's winner, Osawatomie, which dropped the baton on one exchange Friday.
Not all THS athletes advanced past the prelims, though. Three events featured ninth-place finishes from Tonganoxie athletes (the top eight in prelims make the finals).
The girls 4x400 team of Abby Eisman, Jenny Whitledge, Cristina Rubio and Andie Jeannin finished fifth in their heat and ninth overall, but were 0.93 seconds behind Concordia for the last finals spot.
The boys 4x100 relay team — Koch, Willis, Carlisle and Lindsay — was even closer. The boys finished in 44.11 but lost out on the eighth spot to Pleasant Ridge, who was one-hundredth of a second faster at 44.10.
Carlisle was left out of the boys 300-meter hurdle final after placing ninth in his prelim, just 0.53 seconds away from eighth.
Another ninth-place finisher for Tonganoxie was Domino Grizzle. The junior's best throw was 36-9.
Rubio and Whitledge were in the 400-meter dash prelims but Whitledge was 11th and Rubio was 12th.
Class 4A State Track
Friday at Cessna Stadium, Wichita
Tonganoxie results
Girls
400-meter dash prelims — 11. Jenny Whitledge, 1:02.11; 12. Cristina Rubio, 1:02.31
4x400 relay prelims — 9. Abby Eisman, Jenny Whitledge, Cristina Rubio, Andie Jeannin, 4:11.50
Shot put — 9. Domino Grizzle, 36-6.25
Boys
High jump — tie-6. Dylan Jacobs, 6-0; 13. Adrian Whittington, 5-8
Triple jump — 6. Dylan Scates, 41-11
4x100 relay prelims — 9. Bret Koch, Jake Willis, Jeremy Carlisle, DJ Lindsay, 44.11
400-meter dash prelims — 1. DJ Lindsay, 49.64
300-meter hurdles prelims — 9. Jeremy Carlisle, 41.83
Pole vault — 5. Jake Willis, 13-6
200-meter dash prelims — 5. DJ Lindsay, 22.40
4x400 relay prelims — 3. Bret Koch, Tyler Woolworth, Jeremy Carlisle, DJ Lindsay, 3:25.16