Chieftains introduced to state rigors
First trip to Wamego Country Club eye-opening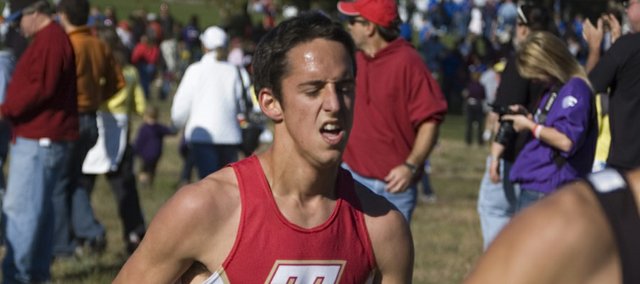 Photo Gallery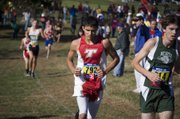 THS boys cross country at state
For the first time since 2006, the Tonganoxie High boys cross country runners competed as a team at state. The Chieftains ran at Wamego Country Club Saturday morning.
Wamego — Tonganoxie High's boys cross country runners have learned their lesson.
As far as cross country meets go, the Chieftains certainly expected state to be a step up from the norm — better runners than a typical meet, a more challenging course — but the Class 4A race at Wamego Country Club blew them away Saturday.
What they found on the paths at state were ferocious hills and opponents hell-bent on beating them to the top. What the THS boys assumed would be a pretty successful trip turned out to be quite the challenge as the team finished last in the 12-team standings.
"When you looked around, you just saw a lot of athletes who this is their main sport of the year and they were just more intense," junior Caleb Himpel said after finishing 58th in the 5K event with a time of 18:38, best among Tonganoxie runners. "It just kind of gives you the chills when you first show up."
Junior Patrick Rachford, consistently the Chieftains' top runner this season, was 17.31 seconds behind Himpel and finished 70th a week after taking ninth at a regional. He couldn't believe how difficult it was to maneuver at Wamego.
"This course is probably the hardest course I've seen all year," Rachford said. "There's so many kids with good talent. You can't get ahead, you can't move out of your spot. If you do, you have to give it all. It's just so hard out there."
Himpel, Rachford and Dalton Harrington, who was 71st, all had talked about placing in the top 40 at state. Once they arrived, Harrington said, they were in for a rude awakening.
"I thought I was gonna do really good," the junior admitted. "Once we started walking this course when we first got here, we saw all these real long, gradual, sloping hills and I was getting tired just walking."
Once the race began, Harrington witnessed much of the competition sprinting up those same hills.
His reaction: "You can tell they've been here before."
THS coach Phil Williams said having state experience is critical at Wamego and it is always difficult for a team to perform well in its first trip because of nerves and intimidation.
"In almost all cases, if many of them come back a second time, they will do much better," Williams said. "I felt we ran well for our first experience there."
Himpel said once the starting gun fired, he could see the difference in the state meet from other races.
"From the get-go I thought people were faster and I was going about 90 percent at the beginning," he said.
Rachford didn't want to start off too fast but by the time he reached the top of the wide, crowded course-opening hill, the usual THS pace-setter was near the back of the pack of 103 runners, because he didn't want to expend his energy sprinting up the first slope.
"I guess starting off that slow and that far back really hurt me for the rest of the race," he said afterward. "Just the whole new course took me by surprise."
It was quite the eye-opening experience for the entire team. Freshman Clayton Himpel finished 87th, junior Brady Field was 92nd, sophomore Jeff Neal came in 95th and senior Keith Slater was the 100th competitor to cross the finish line.
Williams said Clayton Himpel ran probably his best race of the season at state and others ran well, too.
"We had hoped to get into the top 10 teams, but just weren't able to make it," the coach said.
Rachford said the results were somewhat disappointing.
"I could've finished a lot better," he said. "I really didn't have any idea how hard this course was gonna be."
However, the junior stressed the importance of learning from the team's first state appearance since 2006.
"We basically planted a seed here, so we know what the course is gonna look like for next year," Rachford said.
Caleb Himpel said the experience and knowledge gained Saturday ought to motivate the runners as they train in hope of returning to Wamego in 2011.
"Over the summer you really have to push yourself in the offseaon to get better during the season," the junior said.
Harrington said he was really happy to be at state this year, but he wants to train before next fall with another trip to state driving him. He used to run on short hills in the offseason, but after competing at Wamego Country Club, he said he has to find some longer hills "and just try and push myself harder and harder with each one I do."
Class 4A State Cross Country
Saturday at Wamego Country Club
Boys
Team standings: 1. Baldwin, 66; 2. Mulvane, 89; 3. Hugoton, 110; 4. Clay Center, 137; 5. Wamego, 158; 6. Ulysses, 160; 7. Paola, 171; 8. Santa Fe Trail, 174; 9. Labette County, 181; 10. De Soto, 211; 11. Hiawatha, 243; 12. Tonganoxie, 286.
Top 10: 1. Evan Landes, Mulvane, 16:08; 2. Tony Weiss, Baldwin, 16:35; 3. Hudson Phillip, Wamego, 16:46; 4. Heber Jimenez, Hugoton, 16:50; 5. Josh Whittaker, Santa Fe Trail, 16:56; 6. Ethan Hartzell, Baldwin, 16:57; 7. Nick Lockwood, Mulvane, 16:57; 8. Angel Vasquez, De Soto, 17:00; 9. Austin Sturdy, Clay Center, 17:03; 10. Casey Nightengale El Dorado, 17:06.
THS results: 58. Caleb Himpel, 18:38; 70. Patrick Rachford, 18:56; 71. Dalton Harrington, 18:59; 87. Clayton Himpel, 19:32; 92. Brady Field, 19:40; 95. Jeff Neal, 19:54; 100. Keith Slater, 20:19.