Excruciating exit
Tonganoxie season ends with sudden-death penalty kicks in regional final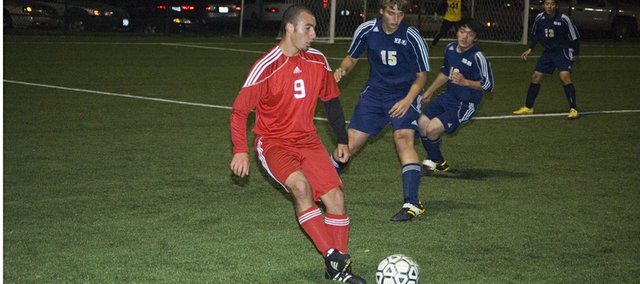 Photo Gallery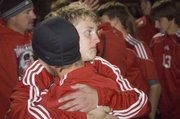 Tonganoxie soccer falls in regional final
The Tonganoxie High boys soccer team lost, 5-4, in a regional final to Maur Hill-Mount Academy Friday at Atchison. The match was tied, 1-1, after regulation and four overtime periods. Knotted at 3-3 after penalty kicks, the Ravens won in the second round of sudden-death penalty kicks.
Atchison — A cluster of Tonganoxie High players wandered on the Benedictine College Soccer Complex field without much direction Friday night. The Chieftains heads' had checked out, a likely reaction to just having their hearts broken.
Tears were the only signs of life as the group of players watched the evening's opponent, Maur Hill-Mount Academy, celebrate a regional championship.
The pain flowed for THS not just due to the outcome, but also because of the high drama that led to a 5-4 overtime loss.
Though the final score showed a total of nine goals in an intense match that lasted nearly three hours, seven of those came on penalty kicks after the match remained tied at 1-1 through regulation and 30 minutes of overtime.
It wasn't until the second round of sudden-death penalty kicks, when THS freshman Evan Lott misfired high and MHMA junior Craig West put the ball in the right side of the net, that the Ravens prevailed to move on to the Class 4-3-2-1A state quarterfinals.
As far as season-ending losses go, Tonganoxie coach Brian Kroll said, it doesn't get much more intense than that.
"As a coach, and as a dad, I want to pick each one of these kids up and I want to put my arm around them," Kroll said after watching them agonize over the loss. "I want to tell them everything's going to be OK, there's tomorrow."
Though there would be no tomorrow in the 2010 season, Kroll couldn't get over the way the Chieftains turned things around in the playoffs, winning twice on the road to reach the regional final, after a one-win regular season.
"I'm proud as hell of my boys. They played great. They fought hard," the coach said, before praising MHMA. "They played extremely well tonight, and so did Tongie."
The toughness of both THS (3-16) and the Ravens (9-6-1) was challenged when the match went to penalty kicks. Tonganoxie sent out Conner Kietzmann, Matt Saathoff, Joseph Parrino, Matt Briggs and Jake Willis as its five representatives for penalty kicks and goalkeeper Keaton Truesdell stood as the only line of defense against Maur Hill-Mount Academy's five designated kickers.
As the opponents traded penalty kicks, the drama grew. Both teams missed their first shot before the Chieftains' second kicker, sophomore Saathoff, gave his team its first lead of the night by putting his try in the lower left corner, out of the reach of Ravens keeper Andres Torre Lima. Saathoff said he had confidence in his foot but anticipation was difficult to handle while watching his teammates.
"I don't know what's going through their mind, if they're panicking or what they're doing, when they kick, but I trust them," he said of his mindset through the overtime penalty kicks.
The Ravens' third kicker, senior Brendan Hoffman, tied things up before the penalty kicks came down to the final representative from each squad. Willis scored with a shot over Lima's head and Alberto Teran Porras forced sudden-death penalty kicks by matching him.
"I was 100-percent sure I was gonna score," Willis said, adding he was forced to hope for the best after that. "I was determined."
In the first round of sudden death, junior Marcus Titterington scored for THS and Esteban Rivas Solis did the same for MHMA, tying the match, 4-4, before West sealed the win in the next round.
In total, Tonganoxie scored on three of its seven overtime penalty kicks and the Ravens went four-for-seven. Kroll said the pressure of the moment likely led to the Chieftains' misses.
"You can not score if you don't put the ball inside those white posts," he said. "That's nerves. That's what you have to credit that to."
Overtime and penalty kicks are especially nerve-racking on goalkeepers, and Kroll said Tonganoxie's goalie, Truesdell, deserved praise.
"He stepped up. He's the goalie, he's the last line of defense. Goalies have a different mentality than anyone else," the coach said, adding the keeper is typically the team's best athlete and the THS sophomore lived up to that. "He was a great goalie tonight."
Truesdell, helped by THS defenders Titterington, Willis, Parrino and Zack Tallent, finished with 11 saves. He stymied two MHMA opportunities in the final two minutes before overtime and the Ravens' only regulation score came on a well-played shot in the 34th minute by Porras.
THS, though, soon answered in the 39th minute with a Briggs goal from about 35 yards out. The shot ricocheted off the top post and just went past the goal line momentarily before bouncing out into the box. Briggs said he usually doesn't like taking long shots but he had been pressured so much by MHMA that he had to seize a rare open opportunity.
"When it went off my foot, I was like, 'That's pretty good,'" the junior captain said.
Once the referee determined the goal counted, Briggs was overwhelmed by the moment.
"I cried. I did. It was a great hit," he said. "I didn't think it had gone in."
There were more tears for Briggs and his teammates a few hours later when the match finally ended. Devastated as he was, the junior said it was special to be a part of such a classic regional final that could have gone to either side.
"It's sad to be on the bottom end of it," Briggs said, "but it was awesome."
More like this story