THS

players enjoy 'elephant-I,' but fall to Jeff West, 41-28
Senior linemen become running backs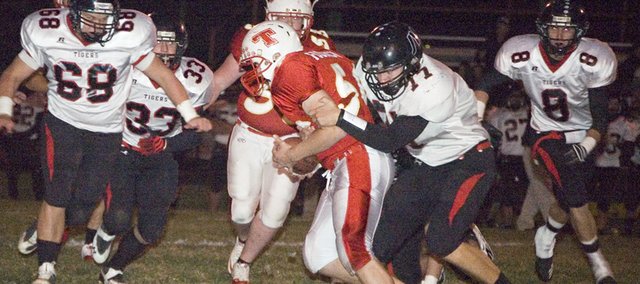 A long, difficult season can lead a coach to try anything to alter the atmosphere.
As the Tonganoxie High football team entered its Thursday season finale on a seven-game losing streak, coach Mark Elston decided to shake things up for his team's first series.
Instead of having senior quarterback Jeremy Carlisle line up in the backfield with typical cohorts Dylan Scates, Shawn Marin and Ian McClellan, the 5-foot-9 signal caller looked smaller than usual teamed with an atypical jumbo package of seniors Dylan Fosdick, Justin Francis and Cody Stine, all of whom normally serve as linemen.
It may not have helped THS to a victory — Jeff West won, 41-28, at Beatty Field — but Elston said it gave his team some motivation. In the days leading up to the game, Tonganoxie ran its "elephant-I backfield" plays at practice and put it in for the opening drive because, the coach said, he wanted to reward the linemen who never get to touch the ball.
"It was something we put in to have some fun," Elston said. "We just needed something to give us a little spark to look forward to the game."
On the Chieftains' first three plays from scrimmage, the senior linemen converted to ball carriers. Though Fosdick was stopped on third down in the backfield for a loss of a yard and Francis only gained one yard on second down, Stine — listed at 320 pounds — lumbered up the middle for six yards to open the game. The big man said he wasn't nervous about his chance in the spotlight.
"I was ready. I've been ready for that," he said. "I've been asking all year if I could run the ball. He finally let me run it."
Both Stine and Francis had pestered Elston about running the formation in a game. After a short gain on his only career carry, Francis joked he should have done some running back drills in preparation.
"I was really excited," the lineman said. "The only thing that could have made it more exciting was getting a touchdown."
Elston finally gave in to the linemen's request, he said, because he wanted to show his appreciation for their play. Fosdick closed this year playing through pain with a rib injury, Francis lined up throughout his senior season with a bum left shoulder and Stine improved tremendously in his one season of playing for THS, Elston said.
Carlisle said he and his teammates enjoyed watching the big men get the chance to touch the football and try to make a play.
"Our senior class, no matter what the outcome of the season, worked their butts off this year," the quarterback said after playing his final game on the gridiron for Tonganoxie. "We just wanted to reward them and tried to think of a way that we could reward some of the guys that don't always get the glory."
The positive vibes of the elephant backfield might have carried THS (1-8 overall, 0-3 district) through the first two quarters, as it entered the second half with the district game tied at 14. There was little glory to go around, however, against the Tigers in the second half, when Jeff West outscored Tonganoxie 27-14.
Though the Chieftains kept JWHS (4-5, 1-2) from reaching the end zone on the first possession of the third quarter with an interception by senior Austin Vickers, they were flagged for two unsportsmanlike conduct penalties after the play and had to start the ensuing drive on their own 12-yard line instead of out near midfield.
Elston said Tonganoxie, which ended the season with an eight-game losing streak, had been "snake-bitten" throughout the skid.
"Just little things like that have been killing us all year," he said.
Injuries certainly contributed to the team's loss total, but Carlisle said the players weren't looking for excuses.
"We can always look back on our season and say what if this happened, what if that happened," he said, referring to the injuries. "We just went out there and we played our hearts out every game and you really couldn't ask for more."
After Tonganoxie pasted Bishop Ward, 54-6, in Week 1, Francis said, he never would have thought that would be the team's only victory.
"I never really saw it coming, to be honest. I kind of bought in to the whole 9-0 thing but things just kept going wrong," he said. "It just went downhill. I wish it had been a lot different."
Score by quarters
JWHS 14 0 7 20 — 41
THS 7 7 0 14 — 28
Scoring
J — Grady Tichenor 3 run. Logan Herring kick.
T — Jeremy Carlisle 7 run. Amos White kick.
J — Tichenor 36 run. Herring kick.
T — Carlisle 3 run. White kick.
J — Dalton Dean 36 run. Herring kick.
J — Tichenor 11 pass from Dean. Herring kick failed.
T — Shawn Marin 19 pass from Carlisle. White kick failed.
J — Chance Higgins 11 run. Herring kick.
J — Scott Hutchinson 82 run. Herring kick.
T — Carlisle 6 run. Carlisle run.
THS rushing: Jeremy Carlisle 17-73, Dylan Scates 6-53, Shane Levy 2-18, Shawn Marin 5-18, Cody Stine 1-6, Ian McClellan 2-3, Justin Francis 1-1, Dylan Fosdick 1-(minus) 1.
THS passing: Jeremy Carlisle 10-18-131 three intercepted.
THS receiving: Austin Vickers 3-70, Dylan Scates 6-37, Shawn Marin 2-24.