Extra work maintains team tradition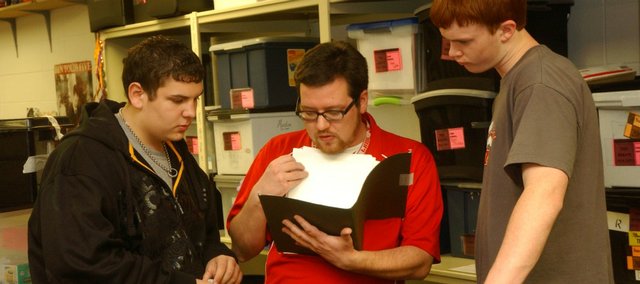 Tre Hesselman learned his freshman year that expectations were part of being on the Tonganoxie High School debate team.
"About midway through my freshman year, we were told, 'No novices were traveling. You guys need to get to tournaments or we're going to see a downfall in our success,'" the THS senior said. "It was a necessary step."
The expectations come with success. And Steve Harrell, THS debate coach, said students were frequently reminded of the school's successful tradition as they walk the school's hallways.
"When they walk by trophies, I would imagine they are aware of what went on before," he said. "And some of the part of that tradition."
There is indeed plenty of hardware in school trophy cases to clue students in on the tradition. Tonganoxie High School four-speaker debate teams earned state titles in 1999, 2001, 2002, 2003, 2004, 2005 and 2010, and the school brought home two-speaker state championships in 1998, 2000, 2001, 2003, 2008 and 2009.
The debate team is in the middle of another busy season in which Harrell challenges students by taking on the best in the state. In recent weeks, the school has traveled to Johnson and Shawnee counties to compete against schools in state's two largest enrollment classes. Team members don't fear competing against squads from Shawnee Mission, Blue Valley and Topeka schools, Harrell said.
"We travel in that circle all the time," he said. "I don't think there is an intimidation factor anymore."
Though they take on big-school teams, Tonganoxie debaters are different, Harrell said.
"In larger schools, kids have to make a commitment to be totally involved in an activity," he said. "Debate will be the only thing kids are involved in.
"I love the idea students in Tonganoxie have an opportunity to chose from an array of activities. I think that is very positive, although it sometimes makes for scheduling nightmares."
Debate is a chance for Tonganoxie students to showcase their well-rounded background and education, Harrell said.
"I tell parents at conferences or open houses, the school does a great job teaching subjects across the spectrum. Debate is an opportunity to take the things they learned in other classes and apply them in real situations," he said.
There are certainly plenty of opportunities to participate in debate with the team members often scheduled to two meets a weekend and squad members limited to seven tournaments.
Hesselman has arranged his tournament schedule to give him one last chance for state success. He qualified for the state tournament as a freshman, sophomore and junior, but stomach ailments the weeks before the finals have kept him out of the competitions.
His goal this year is to again qualify for the state tournament, compete and place, Hesselman said. He doesn't expect the stomach problems, which he said were coincidental and not caused by pre-tourney jitters, to stop him as a senior, he said.
Hesselman said he long ago put any fear or nervousness behind him.
"My first tournament as a novice, I realized I really liked it," he said. "It seemed super scary, but when I got out there I realized it wasn't scary at all."
His first two years, he sometimes went to competitions unprepared, a habit that led to embarrassing moments, Hesselman said.
On a recent Thursday evening, Hesselman and a roomful of other debate squad members were putting in the extra time needed to prevent such moments and to help ensure another successful season. At the two-hour evening squad night — one of two team members have each week — they gathered material and considered arguments on this season's debate topic: Resolved: The United States federal government should substantially reduce its military and/or police presence in one or more of the following: South Korea, Japan, Afghanistan, Kuwait, Iraq, Turkey.
At one table, assistant debate coach Drew Thomas was discussing strategy with freshmen Austin Harris and Jonathon Irwin. The two freshmen were preparing an affirmative argument for the United States to cease using cluster bombs in Afghanistan and Iraq. The coach told the freshmen they could expect opponents to run an argument of the need for hard power over soft power.
Elsewhere in the room, students were preparing files, which would help them marshal facts in the limited time given to prepare arguments and rebuttals at tournaments.
The students are enrolled in debate classes, as are all 70 members of the debate team. Harrell said all those in class were required to compete and to travel to tournaments.
The squad nights, however, are not required.
"It's all volunteer," Thomas said. "But this is one of the activities if you try to do it all in class, it's not going to happen. They've noticed, the more they are in here the more success they are going to have."
Preparation and confidence were the keys to success, said junior Patrick Rachford.
"It really doesn't matter what the other team says as long as the judge thinks you won," he said.
But Rachford admitted he failed to convince the judge in his most enjoyable debate.
"I ran an argument, saying debate was bad," he said. "We lost the argument, but it was fun."
That was an example of the interesting places debate could take students, Harrell said. It was always interesting for him to watch the students as they mature and explore the activity.
"When they have an idea of what they want to do and what they want to explore, I'm just along for the ride. I'm just a facilitator at that point."