Monday night highlights
THS

JV

, freshman teams combine to go 10-3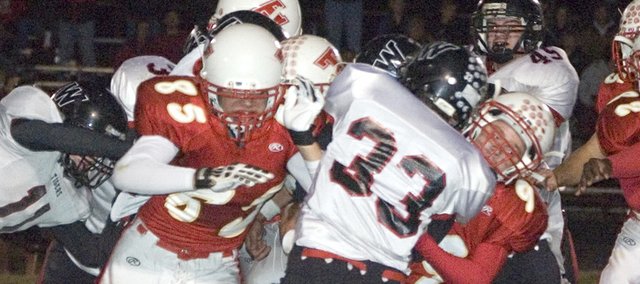 BRIGHT FUTURE
Tonganoxie High's junior varsity and freshman teams combined to go 10-3 this year.
Junior Varsity (5-1)
Piper, W 26-20
Mill Valley, W 54-35
Turner, W 24-16
Lansing, W 22-21
Bonner Springs, W 30-12
Perry-Lecompton, L 18-15
Freshmen (5-2)
Bishop Ward, W 20 -0
Mill Valley, L 28-16
Lansing, L
Pleasant Ridge, W 12 -0
Bonner Springs, W 20-8
Perry-Lecompton, W 16-0
Basehor-Linwood, W 26-20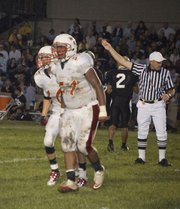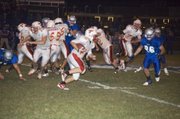 There wasn't much success to be found for Tonganoxie High football on Friday nights this fall. Mondays, though, were another story.
While the THS varsity team struggled, finishing 1-8 in 2010, hope for the Chieftains' future could be seen when the junior varsity and freshman teams took the field. Tonganoxie's JV went 5-1 and the freshmen were 5-2 this season.
A young team's success, Chieftains coach Mark Elston said, can translate to the varsity level once the junior varsity and freshmen players work their way up through the ranks.
"There's not a guarantee, but it's a good gauge on seeing what kids are willing to accomplish," Elston said.
The coach said JV and freshman performances can be very important to the future of the program. He still remembers a freshman game against Basehor-Linwood in 2001 that was a sign of good things to come. He said it "set the standard for the next three years of where kids expected to be and what their commitment was going to be in the off-season." Elston said he could tell after watching that game that the next three seasons would feature plenty of victories if the players continued with that attitude and style of play.
The junior varsity and freshman teams were coached this year by Brad Shelton and Paul O'Neil, assistants on the varsity staff. Shelton said the wins piled up as a result of the players' collective drive to succeed, which started in the summer.
"Desire is a big part of being a football player," Shelton said. "Our sophomore class has been the best class for two straight years in terms of summer weight attendance. They are not the most talented group we have, but they set a good example and want to be successful. Our freshman group also had good attendance and mirrored the determination of wanting to be successful."
With the varsity practicing on Mondays, Elston didn't get to watch all the underclassmen games live, but he saw enough to be impressed. The coach said the JV squad dominated with ball control.
"We were able to get the ball in the end zone darn near every time," he said.
Defensively, the junior varsity played aggressively, Elson added: "The intensity level was very, very strong and they took a lot of pride in every snap."
The coach said a number of players stood out in the JV's one-loss season. Garret Elston, Joe Wolf and Tyler Ford all saw time at quarterback. Cody Saladin, Tyler Zinser and Adam Thomas were productive running backs. Offensive linemen Gus Dent, Tyler Gonser, Connor McClellan and Thomas Miller succeeded in the trenches, as did tight end Amos White. On the defensive side of the ball, Will Bond improved at outside linebacker and Ty Barton excelled on the line.
The freshmen, Elston said, didn't start out too hot, losing two of their first three. He said at first they didn't completely understand what it took to succeed at the high school level. However, they found a way to adapt and win, with victories in each of their final four games.
"They really picked up the intensity and figured out what game speed they needed to be at to be successful," Elston said.
Key contributors, the coach said, included Ford, who rarely came off the field for the ninth-graders. Elston said Wyatt Weeks and Clayton Neas blocked well and Luke Carey stood out at linebacker.
Still, the common thread between all the players, Shelton said, was their want-to approach.
"X's and O's are often way overrated," Shelton said. "Give me a kid with the desire to be successful and (who) wants to be coached and wins are not far behind. Both were fun groups to coach and hopefully their desire remains constant in the future."
After the varsity suffered through an eight-game losing streak to finish the season, Elston is looking forward to plugging in this year's JV and freshman players to fill next season's depth-chart holes.
"I'm very, very excited for the future with the way the JV team took pride and made sure they were on the right side of the scoreboard," the coach said. "And then the freshmen, the way they finished the last three ball games was extremely encouraging."
More like this story