Smith: Soccer team's playoff run unbelievable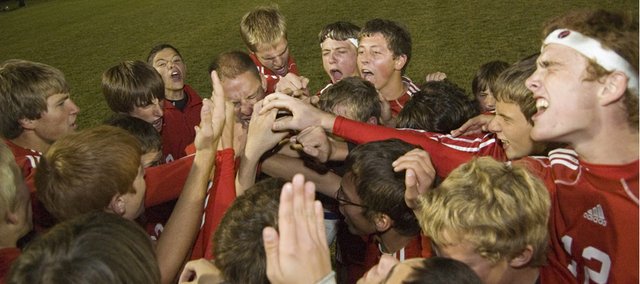 Photo Gallery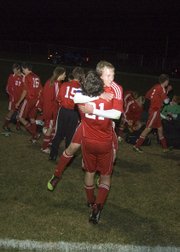 Chieftains upset BLHS, 2-1
The Tonganoxie High boys soccer team defeated rival Basehor-Linwood, 2-1, in a Norheast Kansas Regional No. 3 semifinal Tuesday night.
"Who are we?"
"Tongie!"
"Who are we?"
"Tongie!"
"What are we?"
"Team!"
Those simple questions and responses were shouted back and forth, at close range in a huddle, before Tonganoxie High boys soccer matches this fall. It was a way for coach Brian Kroll, the one bellowing the inquiries, to get his players fired up before a match while driving home the importance of representing their school and playing with unity.
However, it wasn't until the final few weeks of the season — most notably in the playoffs — when that ideology and style truly personified the THS squad.
Through most of the year, Tonganoxie was hapless, winning once during the regular season (Sept. 9 against Perry-Lecompton) before losing 12 straight matches during the next six weeks to enter the postseason with a paltry 1-15 record. Incredibly, the Chieftains followed that up with victories in road playoff matches on back-to-back nights to open their regional bracket, and it took sudden-death penalty kicks in the final for them to be eliminated.
Considering that just two weeks before the playoffs the Chieftains struggled with basic facets of the game and appeared well on their way to an opening-round exit, what transpired was unbelievable, even to the players and their coach.
What would they have thought in mid-October if someone had told them they would play for a regional championship and lose in overtime?
"I would've laughed at that," said sophomore Matt Saathoff.
Even Kroll said he wouldn't have believed Tonganoxie was capable of such a turnaround. He called the regular season results "extremely frustrating" but was happily rewarded with postseason success.
"Watching this (playoff wins), I know now that everything that I was giving those kids all season long is being validated," Kroll said.
Having everyone healthy certainly helped THS as it finished the regular season with a narrow loss to Leavenworth before playoff victories at Perry-Lecompton and Basehor-Linwood led to a regional final loss to Maur Hill-Mount Academy in Atchison. Senior Jake Willis, junior captain Matt Briggs and sophomore goalkeeper Keaton Truesdell all missed significant chunks of the schedule. Briggs said having the team intact set the Chieftains up for a playoff run.
"It was like playing with our original team," he said, noting the loss to LHS in the regular-season finale was a turning point. "That's finally when things started to click. We'd seen images of it from a few people, but as a team it just hadn't gone together."
Finally, Briggs said, Tonganoxie played at a high level, just like Kroll kept telling them they were capable of doing.
The coach, though, credited the team's captains — Briggs, Marcus Titterington and Zack Tallent — with establishing a needed approach. He said the whole team was "dead silent" and focused on bus rides to each playoff destination.
The end result was a determined, inspired brand of soccer. The captains led the way, but each THS player was integral. Tyler Bartholomew gave the Chieftains toughness in the midfield. Jeremy Fox did whatever Kroll asked of him. Conner Kietzmann came off the bench ready to contribute. Evan Lott transformed into a facilitator. Cody Martin maximized his abilities with earnest hustle. Quinten Olson provided senior leadership. Joseph Parrino impacted matches at multiple positions. Saathoff's powerful boot gave THS an offensive force. Evan Stilgenbauer kept searching for and finding ways to score. In goal, Truesdell refused to break, no matter how tough the attack. And Willis doggedly outran anyone in his area to the ball.
The Chieftains were ready to do whatever it took to win. That, Willis said, made him proud.
"I wanted more," the senior said, referring to a regional final victory, "but I got all I could ask for."
As THS made its way through the regional bracket, Briggs said, people at the school started to get excited about the team. He hopes that will carry over to next year.
"Soccer hasn't got that much support, because we were 1-15, but to win two games and go to a regional final, everybody's just excited. Next year I can only hope they will stay that way and want to see us play," he said.
What they will see is basically the same team that finished the year playing for a regional final. Only Willis and Olson will be gone.
Maintaining the magic of the playoffs — by playing to their potential, Lott said — will be the key to making next year even more successful.
"It feels great that we're finally where we need to be," Lott said. "Playing Tongie soccer."