O'Hagan 'grateful' to sign with
CSUB

after injuries
THS

senior attains childhood dream of playing volleyball out West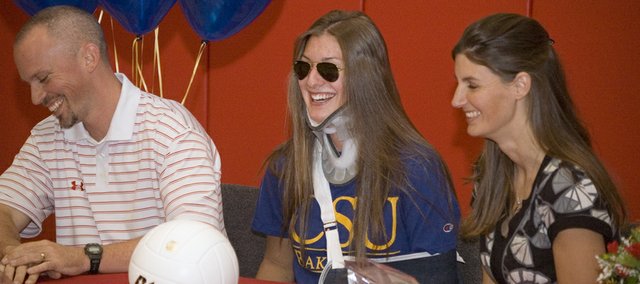 When Tonganoxie High senior Molly O'Hagan signed her letter of intent to play volleyball at Cal State University-Bakersfield, she already had the West Coast look down. With some dark-tinted aviator shades on, she would have been fashionably prepared for some California sun.
O'Hagan wasn't trying to play it cool on Nov. 9, though. The sunglasses were part of a getup forced upon her since suffering injuries in a Nov. 3 car wreck. The glasses keep out light, which her eyes have been extra sensitive to since suffering a concussion. Her other accessories were a neck brace — for severe whiplash — and a sling to support her left arm — because of a separated left shoulder. Besides those ailments, concussion-related headaches and some bruised nerves, O'Hagan said, she actually wasn't in too terrible a condition.
Less than a week before her signing, she had been in the hospital for two days after a semi struck the 2001 Ford truck she was driving. Given those circumstances, it was hard for her to complain.
"I'm very, very lucky I'm not banged up from head to toe," she said.
O'Hagan felt fortunate to experience signing with an NCAA Division I volleyball program after the ordeal. It wasn't lost on her, she said, that she could have been unable to play, or even worse.
"It's a very weird feeling," she said.
The injuries definitely made for a "one-of-a-kind signing," the future CSUB Roadrunner said, but it was a day she had worked toward reaching for quite some time.
"Ever since I started playing volleyball, which was in seventh grade, I wanted to play in California," she said, noting her interest in exploring the world has her intrigued about the university's international programs.
The validity behind that childhood dream of moving West was affirmed when O'Hagan made an official visit to CSUB in September and watched the Roadrunners take on UCLA — "hard game, hard opponent," she said of witnessing the Bruins' Sept. 9 sweep at Bakersfield. Oddly enough, that was just the kind of match the THS senior was curious to see.
"When you're winning, it's easy. The coaches look great, they're all into it, they're happy, but when you're losing, that's when you see the real side of the coach," O'Hagan said. "I got to see how the coaches were acting in hard times, and they were everything I wanted in a coach."
She described CSUB coach John Price and the players as a welcoming, fun-loving team, and said she can see herself fitting in and playing there the next four years.
Due to her injuries, O'Hagan was unable to play Sunday in the annual Greater Kansas City Volleyball Coaches Association's MO-KAN All-Star Match. She would have loved to had the chance to play with and against other top players in the area.
Unable to do so, O'Hagan was looking forward to shedding her neck brace, sling and sunglasses soon. Another sling, however, will soon be in her future with shoulder surgery scheduled for Nov. 30. After that, she won't be able to return to normal volleyball activity for three months, which means she won't be able to play for a club team as planned.
Though looking forward to the day when she is fully recovered, O'Hagan reflected on the significance of her signing day.
"I think it makes me grateful," she said of her recent trauma. "I think being in a position where I might not have been in the state that I am in right now, it makes me so much more thankful."