NASCAR

-backed Victory Junction camp coming to

KCK
Camp holds activities for disabled and chronically ill children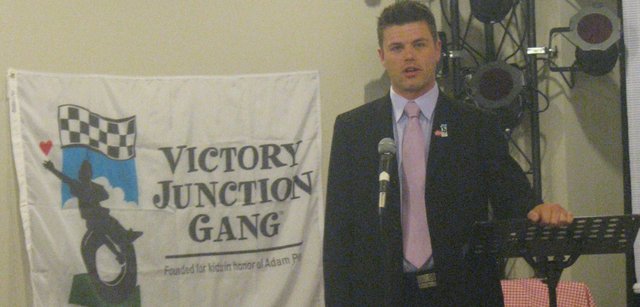 With the whimsical charm of Disney World and the medical sophistication of a hospital, the Victory Junction children's camp in North Carolina is one-of-a-kind, camp spokesman Kyle Brenner said Thursday.
But if things go according to plan, that won't be the case for long.
The Victory Junction organization, founded by the Petty family of NASCAR fame, plans to build a second camp in Kansas City, Kan. Brenner, the organization's lone staff member in the area so far, is spreading the word. As part of that effort, he spoke about the camp at a community meeting at Basehor VFW Post 11499 on Thursday night.
"There's probably not a place on this earth like this camp," Brenner said at the meeting.
NASCAR driver Kyle Petty and his wife, Pattie, founded the original Victory Junction camp, in Randleman, N.C., in memory of their son Adam, who died in a racing accident during practice in 2000. It had been Adam Petty's dream to start a camp for disabled and chronically ill children, Brenner said, and that's what Victory Junction became. The North Carolina camp opened in 2004.
The camp holds 16 weeklong sessions during the summer, each one for a specific group or groups of children with disabilities or diseases, including autism, Down syndrome, cancer and many more.
For some of the roughly 25 different groups of children, Victory Junction is the only camp where they can find an experience and medical care tailored to their needs, Brenner said.
"Basically the camp is a full medical facility disguised as a camp," he said.
Providing that disguise are attractions such as a water park, horseback riding, fishing and a "fab shop," where can children can dye their hair neon orange if they so desire. During the spring and fall, the camp welcomes families to come stay with their children for weekend sessions.
Brenner said the Kansas City camp, tentatively slated to open in summer 2013, would offer similar attractions. The North Carolina camp, located in the heart of NASCAR country, has a prominent car-racing theme, but Brenner said the Kansas City camp would be different.
"This one is going to be much more just bright and colorful, and hopefully a Kansas City feel," he said.
The organization is expanding to the Midwest so that it can have more room to accommodate a lengthy waiting list of potential campers, Brenner said. A Midwestern camp would also make the experience available to kids from more areas of the country, some of whom are unable to travel great distances because of their conditions.
"We see the sickest of the sick," Brenner said.
The Petty family also has some ties to Kansas City, Brenner said: Children's Mercy is one of their favorite organizations for charity work, and Sprint was Adam Petty's sponsor. Brenner, a family friend of the Pettys who was involved with the first Victory Junction camp since it opened, was dispatched as a director of development to represent Victory Junction in the area until the building effort gets under way.
Brenner said the organization was not yet sure of the final location of the camp, but it would be located somewhere near the Kansas Speedway.
The camp is free for all children who attend, and Brenner said the value of the experience for each camper is about $2,500 — sometimes much more for certain children. To cover the costs the organization has relied on donations, especially from people associated with NASCAR, and a massive force of volunteers. Some pitch in for just a week, and others stay the whole summer.
"Volunteerism is the No. 1 thing that we need and that drives our camp," Brenner said.