Deer-mating season poses road hazards
Learn precautions for fall driving in Kansas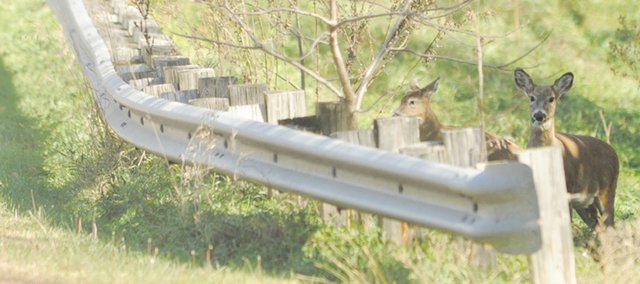 About this time every year, Ron King's staff at his American Family Insurance agency in Lawrence gets calls from customers who have hit a deer with their vehicles.
"It does seem like there's been an unusual amount," King said. "They happen every fall, but it seems like there's even more than normal."
Lately, the calls have come in at a rate of about one every other day.
And state transportation, law enforcement, insurance and wildlife officials have begun warning drivers, particularly those in northeast Kansas, about the dangers of deer near highways and roads in November.
Kansas Department of Wildlife and Parks biologist Lloyd Fox said deer-mating season, known as the "rut" occurs in the fall and peaks in mid-November. It causes the deer to travel more, and deer are more active this time of year because trees and shrubs become more bare.
This causes issues during shorter days because they tend to move during peak travel times in the morning and evening, Fox said.
According to the Kansas Department of Transportation, 9,628 deer-vehicle collisions occurred in the state in 2009. Douglas County had 212, and 11 people were injured in those wrecks. In Johnson County, there were 353 vehicle-deer wrecks with 14 injuries. Leavenworth County reported 207 such wrecks with six people injured. Vehicle-deer wrecks in Wyandotte County in 2009 numbered 176 with 11 people injured.
The average vehicle-deer accident causes $3,000 in damage, according to AAA.