Eager to get started
THS

wrestling, basketball teams begin practice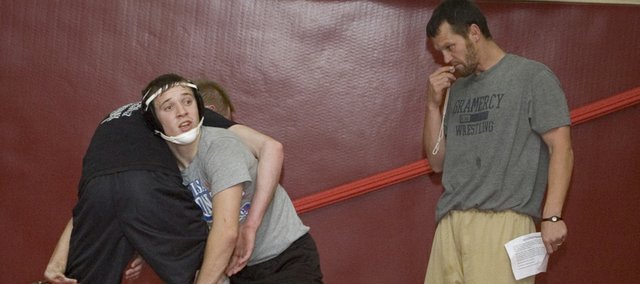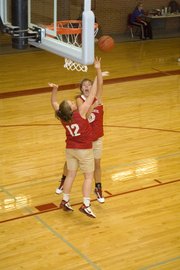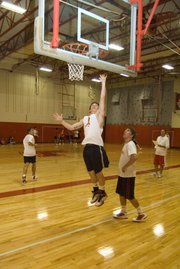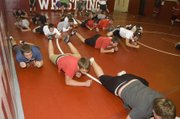 It's time to roll out the basketball racks and put down the wrestling mats. Winter sports are here.
Monday marked the beginning of three weeks of practice time for Tonganoxie High's basketball and wrestling teams before competition commences the first weekend of December.
With Thanksgiving break smack in the middle of that span, there is much to accomplish in a little bit of time. Chieftains wrestling coach Jeremy Goebel said he expects his team to build mental toughness and commitment with constantly-moving practices intended to prepare the grapplers for the intensity of a six-minute match.
"We want to outwork our opponents in terms of being the best-conditioned team and being the best fundamentally sound, basic wrestlers," Goebel said. "Basics win matches."
For Randy Kraft's THS girls basketball team, practices are looking more competitive with a large number of young players. That's good news for the program, Kraft said, because the quality depth on the roster will force everyone — even the older players — to work harder.
"Our freshman group is a pretty competitive group. They're gonna be nothing but help," the coach said. "Every successful team I've had, the JV kids, the kids that come off the bench have made pretty competitive practices."
Senior Danielle Miller said a deep freshman class would push the Chieftains in more ways than one.
"Even if these younger players aren't seeing as much varsity time, they're pushing us," Miller said, "and we have varsity girls from last year who are scared for spots, because the young girls are pushing them."
As the Tonganoxie boys basketball team prepares to embark on its 2010-11 season, third-year coach Shawn Phillips said pre-season practices would focus much more on execution than they have the past two years. There will be some instruction, but Phillips thinks the players are used to his system now and should be able to catch on to things more quickly.
"They've got to know what they're doing," Phillips said. "Most of them should be fairly along in the program, so there shouldn't have to be near as much teaching."
Senior guard Dylan Scates said that level of familiarity should help the Chieftains.
"I think it's a big factor, because there's no questions," Scates said. "We know what's expected. We've just got to go out there and bust our butt and get it done."
New looks
With the upcoming season comes a sense of excitement for the THS squads. Each Chieftains coach anticipates at least some kind of new look for his team once games and matches begin.
Goebel said a big difference for the wrestling team would be its experience. Tyler Hand is a returning state qualifier, Justin Soetaert focused on wrestling throughout the off-season and the THS junior class leads what could be a more polished team.
"The last couple of years our juniors have improved each year," Goebel said. "I think they have a solid base underneath them, which will help us get out of the hole."
Kraft hopes for a significant improvement with the girls basketball team and its biggest asset will be its depth. The style of play will have a different look, Kraft said, as a result.
"With the personnel we have, we're going to try and get back to some of the stuff we did a few years back — run the floor, more pressure defense," he said.
A larger rotation will allow the Tonganoxie girls to do that. The past couple of seasons, Kraft said, his teams relied heavily on a small handful of players, and their high minutes totals forced them to conserve a lot of energy on the court. Now, with a deeper rotation, Kraft expects all of his players will go harder and be afforded the luxury of taking a break on the bench before subbing back in to play with intensity again.
"I think we've got some good kids," Kraft said. "They had a good summer, and I think we're ready to go (practice hard)."
Phillips also alluded to depth when asked about how the boys basketball team will look different this season. Tonganoxie lost both its leading scorer and rebounder from last year to graduation, but Phillips pointed to four heavy-rotation players — Jeremy Carlisle, Dane Erickson, Scates and Austin Vickers — coming back as the foundation to what he thinks will be a deep team.
"We're probably going to have more depth this year, overall, than any year since I've been here," the coach said.
Most of that depth will be in the backcourt, where the Chieftains have five returning lettermen.
"Our guard play," Phillips said, "that will definitely have the most depth. We've got to find somebody to go with Dane in our frontcourt and then somebody else to back them up. Overall, we're going to be fairly deep, I think, this year."