Patterson signs with
UMKC

, reunites with older sister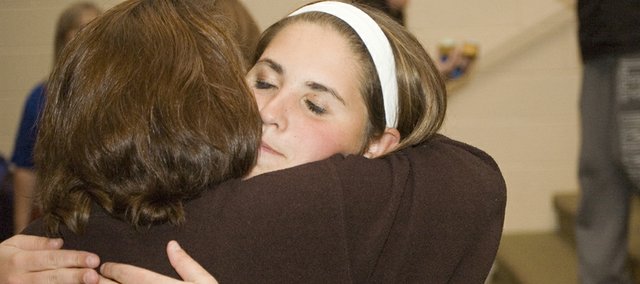 McLouth High senior softball player Kaley Patterson verbally committed to University of Missouri-Kansas City more than a year ago. The Kangaroos' coaching staff and the school's theater program made the nearby university a good fit for her.
Patterson signed with UMKC Friday knowing her college situation will be a perfect fit. When she originally decided on the NCAA Division I program, the MHS pitcher and first baseman had no idea her older sister, Kendall, would be waiting there for her once she arrives.
After a year of playing at Kansas University, Kendall has transferred to UMKC and will be Kaley's college teammate. That will make traveling to watch the siblings play easy on their parents, MHS softball coach Ballard Patterson and his wife Lorie, but Kaley said it will benefit her, too. She expects her older sister to give her a little motivation and inspiration.
"She'll watch over me. I'm not a slacker but it's always good to have that (Kendall as a teammate) just in case," Kaley said with a laugh.
The Patterson sisters played together two seasons at McLouth. Kaley enjoyed her time on the diamond with Kendall and is looking forward to joining forces once again. The Bulldogs senior said she thinks they will work together even better at UMKC.
"There were some times when Kendall and I wouldn't agree on the same things. Once she left, I missed her a lot," Kaley said. "I think that'll just bring us closer."
An MHS pitcher, Kaley said disagreements occasionally arose between her and Kendall, a catcher, during their on-field interactions. However, at UMKC, Kaley said, she will be a position player, likely at first base.
"I think it'll be a lot better, because I won't be pitching there like I did here in high school, so there won't be much of a chance for us to be angry at each other," Kaley said before chuckling at the thought of their little softball arguments.
Kaley still has a spring 2011 softball season at McLouth to go through before she graduates and moves on to UMKC, and she definitely will be pitching plenty in her senior year. So far at MHS, Kaley owns a 27-6 pitching record, a 1.36 ERA and has fanned 323 batters. Just as effective in the batter's box as the pitcher's circle, she has a career .657 batting average and a .555 slugging percentage with 27 doubles and a triple.
Kaley said she wants to enjoy her senior year at McLouth and making it to state and earning a championship ring she can show off in college would go a long way toward her happiness.
"As long as I have a good time and we have a successful season, I'll be happy," Kaley said. "I just want to have fun with the girls as much as I can before I leave. That's my main priority, but state would be just gravy."
MHS softball players have received four NCAA division I offers since 2006 and every McLouth senior has had at least one offer to play at the college level in Ballard Patterson's time with the program. That continues this year with Kaley, as well as seniors Kaitlyn Sparks and Jessie Troupe. Sparks will soon sign with Highland Community College and Troupe is still weighing her options.