Yuletide fun planned for Saturday
Organizers hope earlier date will spark large crowd for old-fashioned event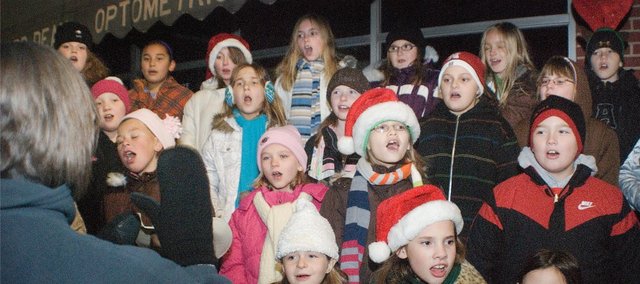 Signs of Christmases long ago are expected Saturday afternoon in downtown Tonganoxie.
Victorian characters and carolers will roam the streets, while the Chieftain Singers will perform some Madrigal Feaste selections, as well as other songs. In addition, carriage rides will be offered for $2 per person or $5 per family. It's all part of the Old-Fashioned Christmas in downtown Tonganoxie. It's also part of the Mayor's Christmas Tree Lighting, which in the past typically has taken place on a weeknight in December.
Tonganoxie Chamber of Commerce director Shelbie Kniss said the event was moved to November in an effort to take advantage of potentially better weather and a better shopping time.
"We thought we could get more people downtown to stay a little bit longer and go into the businesses and sort of stay downtown," Kniss said.
Tonganoxie Mayor Jason Ward, accompanied by Santa Claus and Mrs. Claus, will light the downtown Christmas tree at 5:30 p.m. Several festivities have been planned for earlier in the day as well.
There's a scavenger hunt from noon to 5 p.m., in which shoppers are to find a pickle at businesses and then enter completed cards for prizes.
Kniss said there wasn't any reason a pickle ornament was selected, though there is a supposed old German tradition of hiding a pickle ornament in a Christmas tree. The first child to find the pickle is given a prize.
Once each participant's scavenger hunt is completed, that shopper is to take the completed card to Vintage Soap and Bath, 626 E. Fourth St.
Graves Talent dancers will perform "How the Grinch Stole Christmas" at 3 p.m. and the Tonganoxie Elementary Choristers and Tonganoxie High School Chieftain Singers are slated to perform at 3:10 p.m.
Downtown businesses will be having open houses and Santa Claus and Mrs. Claus will be greeting shoppers and youths at the event as well. They will be at the Old Ratliff Drug Store at Fourth and Bury streets, where a photographer will be capturing their photos with children.