Cramped quarters:
THS

wrestling team filled with depth, talent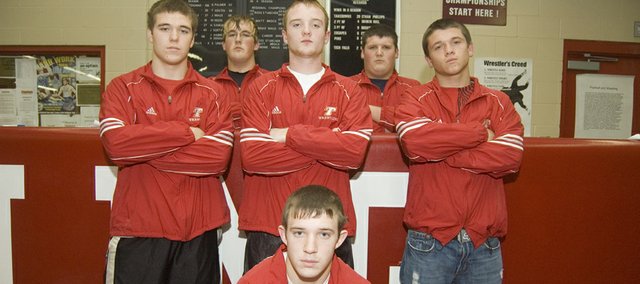 The wrestling room inside the fieldhouse at Tonganoxie High is crowded. Wrestlers repeatedly bump into each other (or nearby walls) during drills.
They may not be in ideal practice quarters, but the good news for the Chieftains is the mat is crawling — and scrapping and grappling — with talent as they prepare for their upcoming season.
There are 10 wrestlers who entered the varsity circle for the Chieftains a year ago back on the mat: seniors Tyler Hand, Ian McClellan, Justin Soetaert and Hank Somers, juniors Anthony Baker, Caleb Himpel Jonas Myers, Matt Soetaert and Adam Thomas and sophomore Thomas Miller.
On top of that, senior Cody Stine will compete for the varsity heavyweight slot and senior Vinnie Angell, who has battled injuries in his time at THS, is scheduled to be cleared to practice this week. Plus, new additions to the program could make an immediate impact as the Chieftains welcome junior transfer Nick Pursel, hard-working athletic sophomore Julius Coats and freshman lightweights Clayton Himpel and Dylan Yates. And to make things even better — and more competitive — coach Jeremy Goebel has more than 10 other wrestlers to compete for varsity spots.
The coach said it has been good to have all the wrestlers together so the team can get to work in preparation for the 2010-2011 season. He hopes the high-volume reps they get in will pay huge dividends and the team can build momentum each week.
"I'm real excited," Goebel said.
So are the team's senior leaders, Soetaert and Hand.
A state-qualifier as a junior, Hand said the whole team has looked strong at practices.
"I see tons of potential from the freshmen, sophomores, juniors," he said.
Soetaert expects all of the Chieftains to bring "a lot of fight" to the mat this year and credited Goebel for driving the wrestlers at practice and preparing them for what the coach calls "six minutes of in-your-face wrestling."
Said Soetaert: "If we can make it to the third period, I think we've got a real good shot of winning the match. We do a lot of endurance stuff in practice, so I think getting there and winning won't be a problem this year."
Hand said there is a lot of talent in the lower and middle weight classes. It will take the team's annual pre-season wrestle-offs to determine who will wrestle where for the varsity, but Soetaert said that depth and competitive atmosphere will help Tonganoxie.
"I think this will definitely be the best team we've had in a long time," Soetaert predicted. "We're good all the way up to about 171 (pounds) and it's just heart from there. I think we've got a lot of kids who can win matches at the middleweights. I think that'll be our driving force."
Most of the team's leadership resides in the middleweight classes. Though Soetaert and Hand take it upon themselves to share their knowledge with their youngest teammates during drills, Soetaert said three juniors have been just as integral.
"Caleb's definitely our performance leader," the senior said of Himpel. "He busts his (butt) every practice."
Along with Himpel, Soetaert pointed to Myers and Pursel for stepping up and making Tonganoxie a better program.
"Jonas is just really loud and likes to inspire the team," Soetaert said. "Nick knows a lot about wrestling that he can bring to the table."
The team has what the wrestlers consider attainable goals — seven state-qualifiers, three state-placers and a 3.0 grade point average — and Tonganoxie's coach said the weekly goal would be continual improvement.
"We hope to come out and compete right away in terms of just working and getting better each week," Goebel said.
Between the leadership, depth and Goebel's obsession with making everyone better, Hand said, the Chieftains are confident success is right around the corner.
"It's gonna be a good year," Hand said. "I can tell."
Tonganoxie's season begins Dec. 4 at Lansing with Kaw Valley League duals.