Heartfelt thanks
Aunt, nephew feel blessed to survive heart surgeries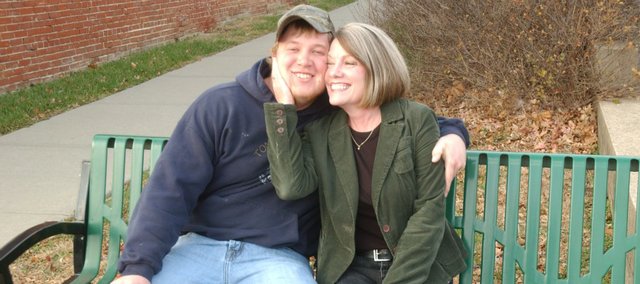 There will be candy bowls in the homes of Tonganoxie sisters Tammy Kissinger and Terylan Walker this holiday season, but they won't be filled with red licorice.
"Nobody wants red licorice," Tammy said. "We don't want any around."
Red licorice has become the gift given to those in the extended family undergoing open-heart surgery. It was a tradition that started with Walker's daughter, Jocelyn Trowbridge-Alford, and continued this year when both Walker and Tammy's son Clinton underwent surgery to repair their hearts.
But if red licorice is to be avoided, there will be plenty of thanks this Thanksgiving for Walker and Clinton's renewed health and the advances in medical science that made that possible.
"We've been just blessed as a family to come through surgeries the way we did," Walker said. "Especially when the surgeon said 'It was by the grace of God nothing happened.'"
Clinton had his surgery May 26, 10 weeks before his aunt. It came after he started having symptoms he never experienced before in his active 18 years.
"I played football pretty much from the sixth grade all the way through high school," he said. "I was in weight lifting and went hunting. I was very active."
In the month before his surgery, Clinton began to experience chest pains, shortness of breath, frequent exhaustion and dizziness.
"I knew something was wrong," he said. "It took me six times going to the doctor, telling him I knew something was wrong, before I finally got it checked out."
The problem was discovered when Clinton was referred to a cardiologist. An echocardiogram found a hole in his heart the size of a half dollar.
"He could have had a stroke or a heart attack at any time," his mother said. "The doctor said many times, that's how they learn of the condition."
Although Clinton was fortunate to avoid those consequences, he did endure serious surgery.
"He opened me up like a pop can," he said. "He (the surgeon) probably had his hands inside of me."
After a short stay in the hospital, there followed by a four-week in-home recovery. It was a difficult time for the active young man.
"I was off work and in the house all the time," Clinton said. "It got real old real quick. I had to sleep in a recliner.
"I'm back to coon hunting every night, now."
Inspiration
As frustrating as it was for Clinton, his recovery was a comfort for Walker when it was determined she, too, would need heart surgery.
"I told Clinton the day I went in he was my inspiration," she said. "He was a rock star. He did so well. He walked out of intensive care."
Unlike her nephew, Walker was aware she had a heart condition. Doctors found she had a heart "click" when she was pregnant with her second child and have monitored the condition since.
This summer, she began having symptoms similar to those Clinton experienced and it was determined she needed surgery to repair the valve. Walker decided she wanted robotic surgery, a much less invasive procedure in which the heart is accessed through four incisions on the side rather than through the sternum.
Through an Internet search, she found a surgeon at Kansas University Hospital who used the technology.
During the operation to repair the valve, the surgeon discovered and repaired a dime-sized hole in Walker's heart.
Although it's not a view shared by all experts, her doctor believed her and Clinton's shared heart defect could be genetically linked, Walker said. Her daughter also had a hole in her heart among other problems, giving the hereditary link more credence.
The three examples were enough to convince the family.
"We've had everybody checked out," Tammy said of the two sisters' families and those of their two brothers. "Everybody is OK."
Recovery and setback
Although the robotic procedure made her recovery easier, it didn't go smoothly. Walker suffered a mild heart attack when a blood clot developed in the heart as a result of the operation and dislodged a month later.
"I'm not 100 percent, but I'm back at work," said Walker, who works with her sister at Wall Ties and Forms in Bonner Springs.
Walker also sees a message worth sharing at her and Clinton's presence at Thanksgiving tables.
"You need to listen to your heart. If you think something is wrong, have it checked out. You have to be your own advocate," Walker said, citing Clinton's insistence something was wrong despite his doctor's assurances and her search for a surgeon who could do the procedure she wanted.
Although the sisters' families won't be at the same table Thursday, there will be plenty of shared thoughts of thanksgiving.
"God's hand has definitely been in our lives and we will certainly be giving thanks this Thanksgiving with very grateful hearts," Walker said.