'

Gift of a Day' features some old, favorite tunes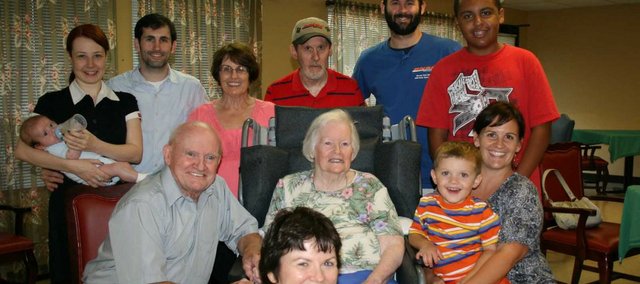 Tonganoxie resident Dolores Finley heard her favorite barbershop quartet music as a special gift.
For her "Gift of a Day," Finley wanted to enjoy her favorite tunes with her family. Created by Crossroads Hospice, the Gift of a Day program asks patients what their perfect day is and staff and volunteers work to make it a reality. The process begins as soon as a patient is admitted.
Finley grew up humming the familiar melodies of barbershop quartet music.
Crossroads arranged for a local all-female barbershop quartet to serenade Finley and four generations of her family.
"The Gift of a Day program brings out the best in the community, with Crossroads staff, volunteers and area businesses coming together to create special moments for these seriously ill patients," says Janet Hessenflow, Executive Director for Crossroads Hospice's Kansas City office. "The requests are as varied as the patients we serve, challenging us to find creative ways to bring about a perfect day.
"The Gifts have brought smiles, tears, laughter and joy to countless terminally ill patients and their families."
The Gift of a Day program was inspired by Jim Stovall's novel, "The Ultimate Gift." Blind from age 29 due to a degenerative eye condition, Stovall went on to become an International Humanitarian of the Year, a national Olympic weightlifting champion, Emmy award-winner, world-renowned author and speaker.
For more information on Crossroads Hospice, call (816) 333-9200
or visit www.crossroadshospice.com.
Crossroads Hospice is committed to being at the forefront of the hospice care industry. To continually shape the way end-of-life care is viewed and administered. The mission of Crossroads Hospice is to provide highly unique, comprehensive and compassionate hospice services to persons experiencing a life-limiting illness and to their caregivers.