Chieftains put abnormal 6-win season behind them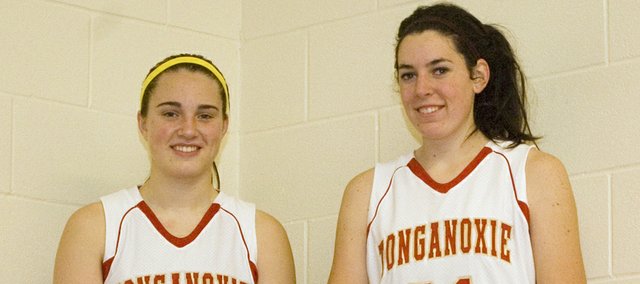 Consider last season an anomaly.
In his eight years as Tonganoxie High girls basketball coach, Randy Kraft's teams have won 133 games compared to only 51 losses.
Just because the Chieftains were down last year by those standards, finishing 6-15, doesn't mean losing is a trend that will continue in 2010-11.
Not only was Tonganoxie more competitive than its record indicated — six losses came by five points or less — but the coach also thought his players showed fight.
"I don't like losing but they were giving us what they had and we lost some really close ones," Kraft said.
The six-win season, senior forward Danielle Miller said, isn't exactly a topic of conversation. However, that doesn't mean the Chieftains have forgotten about it.
"We haven't really talked about it a lot, but I think we all know that we want to do better than last year," Miller said.
Getting back to winning basketball should be possible thanks to improved depth for Tonganoxie. Kraft said his team was challenged last year by heavy minutes for its key players.
"Ever since I've been here, I've never had kids that had to play 30 minutes a game and last year we had three or four kids that were 28, 30 minutes a game," Kraft said.
Although the Chieftains will miss the perimeter play of graduates Andie Jeannin and Lauren Hall, Miller said THS won't rely as much on long-distance shooting this season and should become more balanced.
"We'll be able to finish those inside plays and come up with points," she said.
Short-handed inside last year, the Chieftains now enjoy post depth, their coach said.
"This year we've got four of five kids that are playing down in the post, so we'll have a pretty good rotation down there," Kraft said.
Miller is a returning starting forward and playing with her inside will be fellow senior Tayler Miles, junior Tavia Brown and freshmen Emma Stilgenbauer and Katelyn Waldeier.
Though sophomore Jenny Whitledge, Tonganoxie's leading scorer (14.2) and rebounder (7.1) a year ago, was the team's best interior player last season, the all-Kaw Valley League selection will be operating less from the blocks now, thanks to the team's deeper post rotation.
"This year, we haven't even worked her at the four, she's playing the three a lot," Kraft said, noting Whitledge is a natural playing inside or out.
The emergence of Stilgenbauer inside made that move possible. The 5-foot-10 freshman has impressed her senior teammates. Miller said the newcomer can attack inside in different fashions.
"She's driving and she's posting up, and it's gonna help out a lot," Miller said.
Miles complimented Stilgenbauer for her aggressive defense and ball skills. The 6-foot center also likes what she has seen out of the team's other freshman post, Waldeier. Miles enjoys playing with her, because she can easily dump the ball inside to Waldeier on high-low sets.
"I think we're gonna be really awesome if we can work that high-low a lot," Miles said.
Tonganoxie has just as much depth on the perimeter. Sophomores Hannah Kemp and Whitledge return with starting experience and will be joined in the backcourt by juniors Amanda Holroyd and Haley Smith and sophomore Madee Walker.
There is a question mark regarding point guard, though, Kraft said. He called it an "area of concern" and expects THS to have a committee of lead guards.
"Point guard mentality, it's a little different breed, and even though we've got kids stepping in and playing, they're not playing with that mentality because they're two guards and they're looking more to shoot and not set people up," Kraft explained.
That doesn't mean the coach hasn't seen some good signs from his team, too. Kraft said he has been impressed by the team's aggressiveness and told the players this past week that the coaches already have put in more sets than they had the past few years.
"They're working hard and understanding what we're doing," Kraft said. "The younger kids are really picking it up quick."
Miller said the team's rebounding should be improved, as well.
"There's a lot more want to get that ball than last year," she said.
That can be seen in the play of Tonganoxie's two seniors. Kraft said Miller is more skilled and Miles is more confident.
"Both of them come in this year ahead of where they were last year," the coach said. "That's gonna help us — having confident players on the floor."
Both seniors put in a lot of off-season work. Miles said it has paid off for her.
"I've always had a lot of height on everyone, but not necessarily knowing what to do when I get the ball" used to be her biggest problem, she said. Miller said that is no longer the case with Miles' improved approach and ability.
With depth and talent, the Chieftains hope to win more than six games this year, but Kraft said they are not looking ahead to a specific number or post-season goals.
"Our goal is the same every year: Win the next game," the coach said.
Tonganoxie opens its season at 6 p.m. Friday at Basehor-Linwood.