Inventing a new approach
Guard-heavy
THS

looking for assistance down low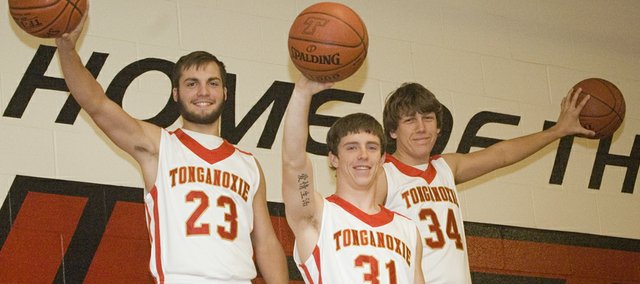 When it comes time to split up the post players and guards at Tonganoxie High boys basketball practice, it might appear as though some perimeter players got lost and ended up on the wrong end of the court.
What are those smaller guys doing down there with Chieftains junior center Dane Erickson?
It turns out those are Tonganoxie's post players. Other than the 6-foot-5 Erickson and 6-4 freshman Eric McPherson, height is an area that's lacking for Tonganoxie. THS coach Shawn Phillips said post play is the biggest question surrounding the team as it prepares to begin the 2010-11 season.
"We've got to find out who our other post is gonna be," Phillips said, noting that Erickson, an all-league performer last season, would be the team's go-to player in the paint.
"Dane does a pretty good job of using his body to get position," the coach said. "You give him a little room, and he can catch a guy in a bad position and get him sealed under the basket."
Practicing with the true bigs, Erickson and McPherson, are juniors Brady Waldeier and Ben Williams and sophomores Matt Saathoff and Keaton Truesdell. At 6-0, Saathoff, Waldeier and Williams have the most size of the atypical THS post players.
"We're trying to be a little inventive with the post spots right now," Phillips said. Doing so led the third-year Tonganoxie coach to send Williams, who played guard off the bench last season, down low.
"Ben is a kid who is really smart, so he can play lots of different positions," Phillips said, adding that Williams has improved his strength from last season and is trying to get familiar with the footwork that goes along with post drills.
Part of the question surrounding the Chieftains' post rotation comes with a leg injury to 6-3 forward Dylan Jacobs, who had a stress fracture and spent some time in a cast and a walking boot. Phillips complimented the non-traditional post players, though, for doing a good job at practice.
According to senior point guard Jeremy Carlisle, Waldeier has emerged as the best option to play alongside Erickson inside.
"He's really playing well this season so far in practice," Carlisle said of Waldeier. "We're expecting big things out of him."
With Erickson, the team's leading returning scorer (13.9 points), serving as the anchor and Carlisle pushing the tempo (8.4 points, 6.6 assists), Phillips is confident in the team's rotation, which also will feature returning starters and senior guards Dylan Scates and Austin Vickers, as well as junior backup guard Colby Yates, from last year's 13-9 team.
Another challenge for THS this season will be finding a way to replace the scoring of Keaton Schaffer, who graduated. Vickers, though, said the returning players aren't worried about who will fill that void.
"There's pressure on us to push the team harder," Vickers said. "I don't know about points necessarily."
Phillips said points would be more evenly distributed this year than in the past, when Tonganoxie counted on Schaffer to score a lot.
"I think we've got several guys on our team that can go for double figures on any given night, so I think we'll have a little more balance this year, overall," the coach said.
Scates agreed, and said the team is on the same page as far as scoring distribution is concerned.
"Everybody's gonna be scoring more points instead of just one person scoring all the points," Scates said. "Eventually, in the long run, I think that can really help us, just because it's not like we're gonna have one set go-to guy."
Carlisle said the Chieftains are happy to play with that approach.
"We'll still have to see who's going to step up in what times, because every game there's somebody who steps up, whether or not it's a starter or somebody coming off the bench," the point guard said. "Different games we'll get different people coming up and showing what they can do."
Carlisle thought the team's biggest concern this season would be its health. Given Jacobs' injury and the fact that Carlisle, Scates and Vickers all missed time during football season with bangs and bruises, the players are hoping to avoid any significant injuries.
Phillips is just as concerned with keeping everyone healthy.
"I think we have a chance to be pretty successful. But every season is an injury away from completely changing," the coach said.
Tonganoxie learned that the hard way in a sub-state semifinal last season, when Schaffer injured his back and couldn't finish a game that the Chieftains went on to lose.
Scates said a more successful postseason and a Tonganoxie Invitational title were among the team's goals this year.
"I definitely want to go further than we've gone," Scates said. "We should've went to state last year and we just kind of had unfortunate events happen."
Carlisle said Tonganoxie's players and coaches are confident the team will have a successful season.
"We just have to go out and prove it," he said.
The Chieftains' season begins at 7:30 p.m. Friday at Basehor-Linwood.